Thanksgiving Tea Cocktails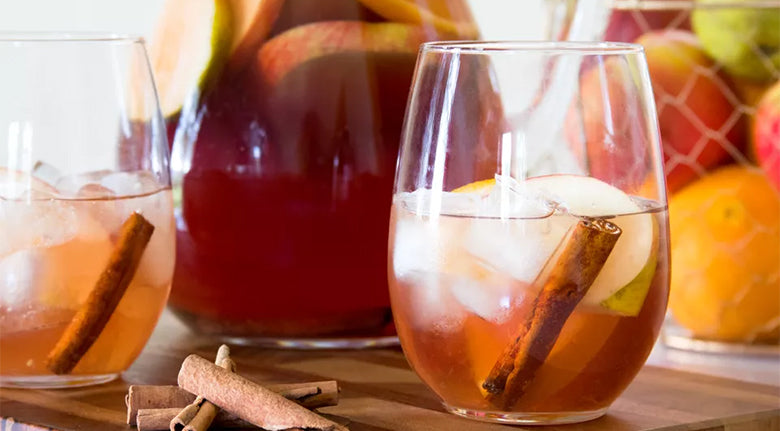 The holidays are in full swing and of course that means we must spread some holiday cheer! Here at Chado we think there is no better way to celebrate than with a couple of tea based cocktails! Below you will find recipes that will help invoke the spirit of Fall and are sure to tantalize you and your guests taste buds.
Earl Grey Bourbon Punch

This Early Grey and Bourbon cocktail is sure to add a "punch" to any festive event. Serving up to eight people, this recipe is not only easy to serve but easy to double or even triple, if needed.
Ingredients:
¼ cup of loose Earl Grey Tea

½ cup honey

4 sprigs thyme

2 sprigs rosemary, plus more for garnish

1 cup fresh lemon juice

1 ½ cups Bourbon

½ cup Cognac or Brandy

1 teaspoon orange or regular bitters
Preparation:
Combine the Earl Grey tea and ¼ cups of boiling water. Let steep for 5 minutes, then stain through a fine-mesh sieve into a measuring glass (you should have 1 cup). Let cool.

Bring the honey, thyme, 2 rosemary sprigs, and ½ cup water to a gentle simmer over medium heat. Stirring to combine. Let cool and discard herbs.

Combine tea, honey syrup, lemon juice, Bourbon, Cognac, and bitters in a large pitcher or punch bowl. Add 2 cups of ice and stir until ice is melted and punch is very cold.

Serve the punch in tumblers filled with ice, garnish with rosemary sprigs and lemon slices. (The syrup and tea can be made 3 days prior, cover and refrigerate separately. The punch can be made 1 day ahead, cover and refrigerate.)
Tea and Whiskey Highball

Not only will this cocktail please the pickiest of whiskey drinkers, but it will be sure to please tea lovers who love the aroma and flavor of Chai.
Ingredients for cocktail:
1 ½ ounces whiskey of your choice

½ ounce Chai Cordial

½ ounce fresh-squeezed lime juice

3 ½ ounces ginger ale

Fresh lime wedge for garnish
Ingredients for Chai Cordial:
1 tablespoon of Chai

4 ounces sugar

4 ounces water

1 pinch salt

Zest of 1 whole lime
Directions for Chai Cordial:
Add water, sugar, salt, and chai tea to a saucepan over medium heat.

Bring mixture to a boil, add lime zest and let simmer for a few minutes, until the sugar has dissolved completely.

Cool and strain with a cheesecloth before use.
Preparation:
Add ice to a chilled highball glass.

Measure your ingredients and pour into your glass.

Gently stir with a spoon, incorporating all ingredients and chilling the cocktail.

Garnish with a lime wedge.
Thanksgiving Fall Sangria

While this recipe might be a labor of love, it is sure to please the masses at your Thanksgiving festivities this year!
Ingredients:
½ cup brandy

½ cup gin

1 cup chilled Green Tea

1 cup pomegranate juice

2 ounces cinnamon syrup

1 bottle dry white wine

1 medium apple
1 medium pear

1 medium orange

3 cinnamon sticks, plus more for garnish

1 cup club soda

Apple slices, cut in half for garnish

Orange slices, cut in half for garnish
Preparation:
In a pitcher, pour the brandy, gin, chilled green tea, pomegranate juice, and cinnamon syrup. Stir well.

Add a full bottle of dry white wine.

Cut an apple, pear, and orange into slices and add them to the pitcher along with 3 cinnamon sticks. Cover with plastic wrap and refrigerate overnight, about 8 hours.

When time to serve the sangria, add in the club soda into the pitcher. Serve in glasses over ice, garnish with an apple and orange slice and a cinnamon stick.
Harvest Orchard

Tasting like a freshly picked apple straight from the farm, this simple cocktail is sure to delight your resident black tea drinkers.
Ingredients:
2 ounces vodka

½ ounces apple brandy

2 ½ ounces pear juice

2 ½ ounces chilled Black Tea

1 ounce simple syrup

Lemon zest for garnish
Preparation:
Add vodka, apple brandy, pear juice, black tea and simple syrup to a cocktail shaker with ice.

Cover and shake well until chilled.

Strain into two copper mugs filled with crushed ice.

Top with lemon zest and enjoy!
Chai Apple Cider Slush

Like an adult slurpee but better, this cocktail is sure to delight your guests and maybe even have them back for seconds!
Ingredients:
18 ounces of apple cider, frozen in ice cube trays

3 ounces vodka

1 ounce apple brandy

4 ounces ginger beer

3 ounces chilled Chai Tea

1 ounce fresh lemon juice

Cinnamon stick for garnish
Preparation:
Combine apple cider cubes, vodka, apple brandy, ginger beet and chai tea in a blender.

Blend till a slushie consistency.

Pour into a short glass and garnish with a cinnamon stick.
Want To Browse Our Wide Selection Of Teas?
Check out our Selection of Teas we have to offer from all over the globe.