Teas for the Season: It's a Chado Christmas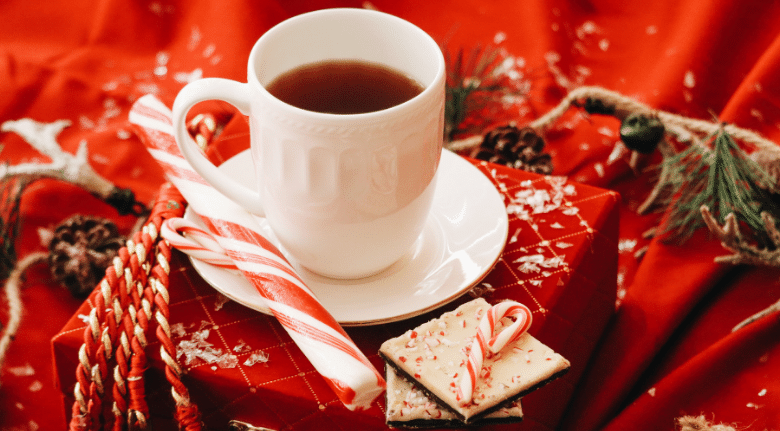 Christmas is just around the corner and the cold weather has finally arrived for us here at Chado. With winter's rainy arrival in California it has us all scrambling to stay warm but also keep in the holiday spirit. It's a good thing we have five Christmas teas to choose from, perfect for every tea drinker's palette! Below you will find blends infused with holiday flavors such as cinnamon, peppermint, ginger, allspice, clove, orange, and almond just to name a few.
Chado's Christmas Teas
Steeping Time: 5 - 7 minutes, 212°F

Peppermint and Chocolate, one of Christmas's classic flavor combinations. Let our Peppermint Bark tea satisfy your sweet tooth this holiday season. Perfect as an after-dinner treat or a midday indulgence, we promise we won't tell.

Ingredients: Green Rooibos, peppermint, chocolate pieces, black peppercorns, natural flavoring.

Steeping Time: 3 minutes, 212°F

When you mix together ginger root, licorice, allspice, and clove everyone's favorite holiday treat comes to life, Gingerbread! Our Gingerbread cookie tea tastes like dessert in a cup and is the ultimate treat for your taste buds this holiday season. Our Chado team especially loves this particular tea in latte form, a treat you won't want to miss!

Ingredients: Black Tea, ginger root, licorice, allspice, cloves, with natural flavoring

Steeping Time: 3 minutes, 212°F

Our Oh Christmas Tree blend is like Christmas in a cup! Let the flavors of orange, apple, cinnamon, and black peppercorn warm you with feelings of good cheer this holiday season. Whether you enjoy it fireside with your loved ones or as the perfect accompaniment for a Christmas afternoon tea, this blend will have you singing "oh Christmas tree, oh Christmas tree how lovely are your branches".

Ingredients: Black tea, orange peel, apple diced, cinnamon chips, black peppercorn, raspberry leaves, with natural flavoring.
Chado Christmas Gifts
It's still not too late to get in your last minute Christmas shopping! Want to treat your family and friends to the gift of Chado this holiday season, then don't miss out on our two Christmas bundles!
Chado Christmas Teas Bundle
Do you love the flavors of peppermint, gingerbread, and Christmas cake? Then look no further! Our Christmas Tea bundle contains our signature Chado blends Peppermint Bark, Gingerbread Cookie, and Oh Christmas Tree. Three perfect blends to give as a gift to yourself or for your resident tea connoisseur.
Chado Stocking Stuffer Bundle
Do you have a resident tea lover in your life but you aren't sure what to gift them this holiday season? Then look no further! Chado has the ultimate tea lovers gift in our Chado Stocking Stuffer bundle. In this ultimate tea lovers gift you'll find a box of our Chado Tea Chocolates, a Chado Pin, a drip catcher, a reusable tea infuser, and a 4 ounce bag of our English Breakfast blend. All items are perfectly sized to fit into any Christmas stocking!
Want to browse more of our products for your holiday shopping?
Check out our Selection of Teas we have to offer from all over the globe.