It's a Chado Christmas: Christmas Tea Cocktails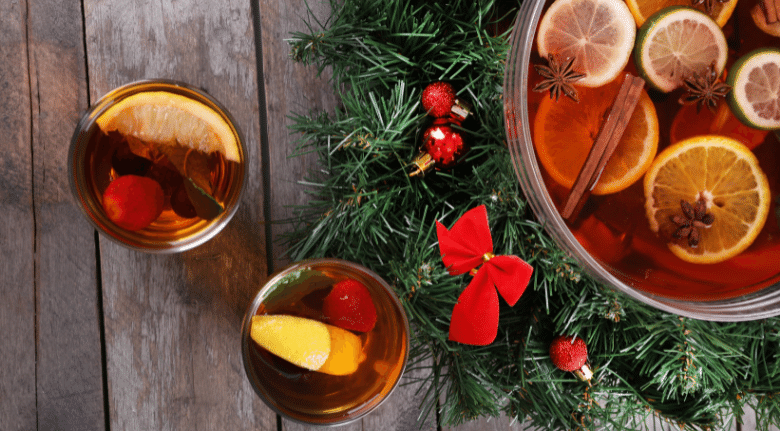 The Christmas and holiday season is in full swing and with that comes Christmas and holiday parties! Do you want to be the perfect host or hostess this holiday season? Then you can't go wrong if you serve one of the Christmas tea cocktails listed below.
Chai Tea White Russian
Who doesn't love a sweet cocktail every now and again, better yet one that tastes like dessert in a cup? If you do then you'll love this Chai Tea White Russian recipe.
Chai Tea Simple Syrup Ingredients:
4 teaspoons of Reena's Chai

⅓ cup of honey

1 teaspoon of vanilla extract
Chai White Russian Ingredients:
¼ cup vodka

3 tablespoons of Kahlua

2-4 tablespoons of chai tea syrup

2-4 tablespoons of heavy cream

Cinnamon sticks and star anise for garnish
Chai Tea Simple Syrup Directions:
In a medium pot, bring 1 cup water to a boil.

In a medium pot, bring 1 cup water to a boil.

Remove from the heat, add the Reena's Chai, cover and steep for 10-15 minutes.

Strain the tea and add the honey.

Bring to a boil over high heat. Boil 3-5 minutes, then remove from the heat.

Stir in the vanilla. Let cool. Keep in the fridge for up to 2 weeks.
Chai White Russian Directions:
Fill a glass with ice.

Add the vodka, Kahlua, and chai tea syrup.

Stir gently, add the heavy cream and stir to combine.

Garnish with cinnamon and star anise, if desired.
Fireside Rooibos Apple Cider
This cocktail is perfect for when you've come in from out of the snow and need something to take the chill out. With the perfect combination of Rooibos making it caffeine free and the addition of apple cider and bourbon, this is sure to warm you right up!
Ingredients:
¾ cup water

2 teaspoons Rooibos Bourbon

1 ½ cups apple cider

1 tablespoons fresh lemon juice

1 cinnamon stick
1 inch piece of ginger, peeled and sliced

1 apple, sliced

A couple of pinches or ground cayenne pepper or black pepper, you can also do a little of both

2 ounces of bourbon whiskey

Honey or maple syrup to taste
Directions:
Steep the Rooibos Bourbon for 5 to 7 minutes, strain tea and set aside.

In a small saucepan, combine the apple cider, lemon juice, cinnamon stick, ginger, apple slices, and ground peppers.

Bring to a boil and let simmer for 5-10 minutes.

Remove from heat and add in the steeped tea, stir well and strain into two mugs.

Add in the shot of bourbon, 1 ounce for each cup.

Add in honey or maple syrup to taste and garnish with a cinnamon stick and apple slices.
Holiday Tea Punch
Do you have a holiday party coming up and want to make a quick and easy drink to serve to your guests? Then look no further, this recipe can serve up to 18 to 20 people and is sure to put the Yuletide cheer into any event!
Ingredients:
1 bottle of dark rum

1 bottle of dry red wine

3 cups of strongly brewed 
Oh Christmas Tree tea

½ cup orange juice
½ cup lemon juice

Oranges, apples, cranberries for garnish

Rosemary sprigs for garnish

Optional, simple syrup or honey if you would like it sweetened
Directions:
Combine all ingredients in a large punch bowl and stir well.

Add simple syrup or honey to taste.

Cover and move the bowl to the refrigerator until you're ready to serve.

When you're ready to serve, add sliced apples, oranges, or fresh cranberries for garnish.

Serve chilled and garnish with extra orange slices, cranberries, and a rosemary sprig for an extra festive touch.
Need more holiday inspiration and recipes?
After learning some festive holiday cocktail recipes, try some of our other holiday treats. Check out Christmas Tea Infused Goodies & Teas for the Season!