Self-Care With Chado: Homemade Tea Soap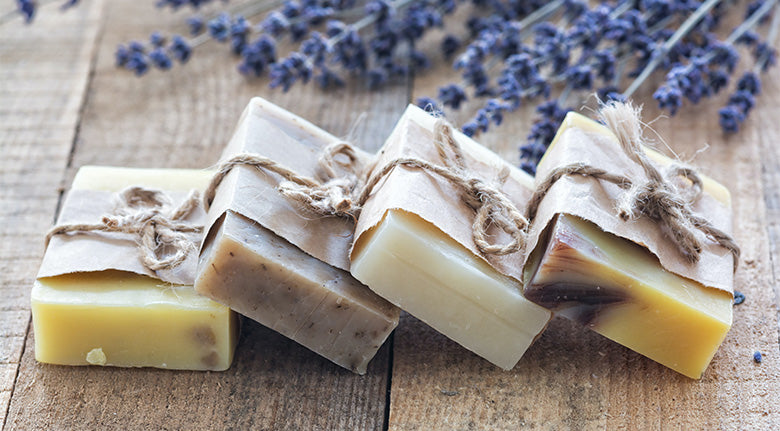 Today we begin our second installment of our Self-Care with Chado series and it's all about soap! Did you know that you can make homemade soap with our teas? Not only will these soaps have great benefits for your skin but also smell fabulous when using them! Tea soaps can help the skin rid itself of harmful radicals that cause skin damage and build collagen for improved skin cells and a healthier body overall. Before we jump into the tea soap recipes we recommend grabbing a few of these safety tools prior to beginning.
Safety Materials:
Scale for measuring

Thermometer

Stainless steel double broiler

Pitcher

Pot of water

Immersion blender

Rubber gloves, face mask, apron (safety gear)

Soap mold or any mold you like for the shape
Chado x Sinensis Ceremonial Matcha Soap
Ingredients:
7 oz Coconut oil

17 oz Olive oil

8.4 oz Distilled water

3.6 oz Lye

2 oz Grapeseed oil

.5 oz Shea butter or cocoa butter

10 grams Spearmint essential oil

5 grams Rosemary essential oil
Ingredient Preparation:
Wearing gloves, measure out the ingredients by weight with your scale.

Heat your essential oils over low heat until fully melted and it has reached a temperature of 115°F.

In a well ventilated area, add your lye to the water in your pyrex glass, stirring constantly. Be cautious as it will get hot very quickly.

Cool your lye water in an ice bath until it reaches 115°F.

Add your oils to a large bowl and then slowly add your lye water to the mixture.

Using the immersion blender, blend the mixture until it reaches a pudding consistency.

Once at this consistency, add in your matcha. Blend until fully combined. Add in the essential oils and blend again.

Pour your soap in the mold and wrap in a towel. Place somewhere warm for 48 hours.

After 48 hours you can remove the soap from the mold. Cut into desired sizes and shapes.

Leave your soap to cure on a wire rack for 6 weeks in a cool, dark place.
Lavender Earl Grey Soap
Ingredients:
340 grams olive

284 grams coconut oil

124 grams sunflower oil

114 grams grapeseed oil

142 grams shea butter

6 tablespoons Lavender Earl Grey

1 cup dried lavender buds

142 grams lye

300 grams water

10 grams bergamot essential oil

10 grams lavender essential oil

5 grams benzoin resin

1 tsp purple mica

Butterfly pea flowers for the top

Lavender buds for the top
Ingredient Preparation:
Over a medium-low heat, heat up the butters and oils. Once melted, add in your tea and 1 cup of lavender buds and lower the temperature.

After a few hours, strain your mixture using a fine sieve and then again with a cheesecloth or coffee filter.

Weigh out the remaining materials.

Reheat your mixture to 115°F. While heating, add your lye to the water in a heat proof container. Stir until completely dissolved. Place in an ice bath until it also reaches 115°F.

In a large mixing bowl, add your lye water to your oils. Use an immersion blender to blend until it reaches a light consistency.

Add in your essential oils and benzoin resin. Blend again.

Pout into a mold. Sprinkle the purple mica powder on top and mix the soap one last time.

Sprinkle butterfly pea flowers and lavender buds on top.

Let the soap rest for 48 hours wrapped in a towel.

After 48 hours, cut the soap and let it cure for 6 weeks in a cool, dark spot.
Self-Care with Chado Blogs
Want to explore more tips and tricks on how to use tea for all of your beauty needs? Then visit our Chado Tea Blog page on our website to see how to use Chado teas in face masks and soothing bath tea bags!