Simple, Easy Pyramid Tea Bag Cocktails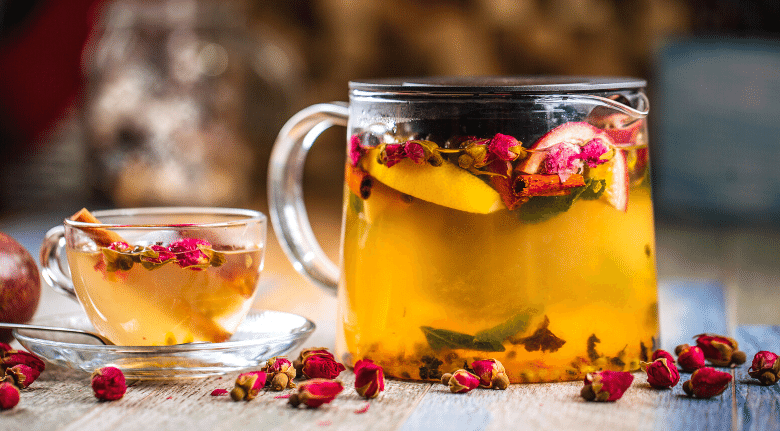 As we continue with our two month highlight of our signature Chado Pyramid Tea Bag collection we want to add some fun to the month. What is better than a tea infused cocktail? A tea infused cocktail using our pyramid tea bags! Utilizing our signature pyramid tea bags keeps it quick and easy when making these delectable drinks. Below you can find three fabulous cocktail options for everyone's taste palette.
Passion Fruit Oolong Cocktail
Prep Time: 5 minutes
Cooling Time: 20 minutes
Total Time: 25 minutes
Serving Size: Two People
Tea Ingredients:
Cocktail Ingredients:
2 ounces Passion tea

4 ounces gin

1 ounce orange juice, fresh squeezed

1 teaspoon agave nectar

Garnish, 2 orange spirals/twists
Tea Brewing Directions:
In a large measuring cup, add the two tea bags and pour over 2 cups of boiling water.

After steeping for 15-20 minutes, discard the tea bag and cool completely on the counter or in the refrigerator.
Cocktail Directions:
Peel off two long strips from an orange to use as a garnish for each glass. Cut an orange in half and squeeze 1 ounce of juice, using a juicer or by hand.

In another large measuring cup, add 2 ounces of the cooled Passion Fruit Oolong, orange juice, and agave. Mix until the agave is dissolved and combined.

Serve the cocktail on the rocks or as a martini.
Darjeeling Spiced Tea Cocktail
Prep Time: 45 minutes, including cooling time
Cook Time: 5 minutes
Total Time: 50 minutes
Serving Size: 4 People
Ingredients:
3 cups water

¼ cup sugar

¼ teaspoon ground ginger

¼ teaspoon cinnamon

Juice from 1 lemon

6 ounces vodka

1 ounce sweet vermouth

2 to 3 dashes of orange bitters (optional)

Garnish, lemon peel
Cocktail Directions:
Combine the water, sugar, ginger, and cinnamon in a small saucepan and bring to a simmer, whisking occasionally. Simmer until reduced by half.

Strain the sugar mixture into a heat-proof measuring cup and if you have less than 2 cups, add hot water until there is 2 cups of liquid.

Drop in the 3 PTBs and steep for 3 to 5 minutes. Take out the PTBs without squeezing them.

Place the sugar and tea mixture in the refrigerator until room temperature or ready to use.

Put half of the tea mixture, half of the lemon juice, half of the vodka, half the vermouth, a shake or two of bitter and ice into a cocktail shaker. Shake for about 10 seconds or until mixed.

Pour over ice into two glasses and add the twist of lemon peel. Repeat with the remaining ingredients and enjoy!
White Champagne Raspberry Margarita
Prep Time: 15 minutes
Total Time: 15 minutes
Serving Size: 2 People
Raspberry Simple Syrup Ingredients:
1 cup water

1 cup sugar

½ pint raspberries
Margarita Ingredients:
2 cups brewed White Champagne Raspberry Pyramid Tea Bags

4 ounces tequila

2 ounce orange liqueur

3 ounce fresh squeezed lime juice

3 ounce fresh squeezed lemon juice

¼ cup raspberry simple syrup

Garnish, lime and lemon slices, raspberries
Raspberry Simple Syrup Instructions:
Boil the water and sugar until the sugar has dissolved, turn the heat to medium low and add the raspberries.

Simmer until the berries become soft; about 5 minutes and then turn off the heat and let steep until cool. Strain through a mesh strainer to remove the pulp and seeds prior to use.
Cocktail Instructions:
Mix equal parts sugar and kosher salt for the rim (optional, add a bit of lime zest)

Moisten the rim of the glass with lime, then dip the rim in the salt/sugar combo. Fill the glass with ice.

Combine the tea, tequila, orange liqueur, lime juice, lemon juice, and raspberry simple syrup in a pitcher with ice and stir until cold.

Pour over ice in a glass. Adjust raspberry syrup as needed for desired sweetness and garnish with fruit
Want To Try More Chado Teas?
Browse our entire Selection of Teas today! Not sure what blends to try? Take our Chado Tea quiz so get recommended the right blends for you.