Self-Care with Chado: Chamomile Tea Beauty Recipes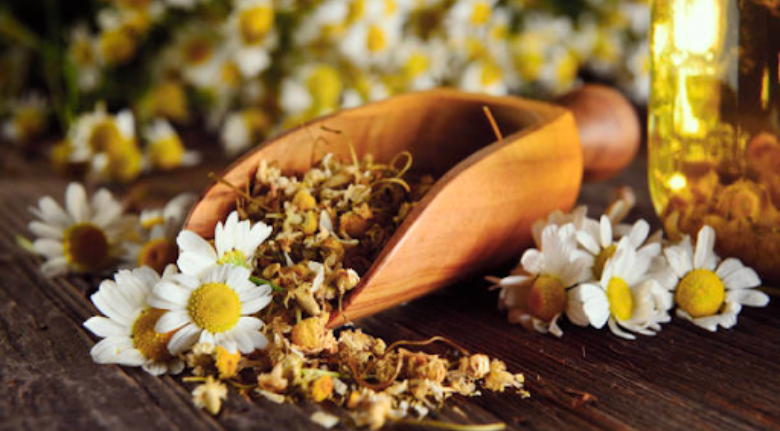 Did you know that chamomile tea can do more than provide you with a good night's rest, it can also help with your daily beauty routine?  Today we have a couple of easy at home beauty regimens that you can make with our very own Chamomile.
Chamomile Face Scrub
Chamomile contains great anti-inflammatory properties, perfect for calming and soothing irritated skin.  It can also help reduce redness and dryness in your skin, making this calming face scrub the perfect addition to your daily routine.


Ingredients:
Oatmeal

Honey

Freshly steeped chamomile tea
Directions:
Steep a fresh cup of chamomile tea and set aside.

In a mixing bowl combine oatmeal, honey, and the chamomile tea to create a thick paste.

Once combined, apply to your skin and massage it in with easy circular motions to remove any dry skin from the face.

Continue to massage onto the skin until you see fit, once done rinse off the mixture with warm water and pat dry.


Chamomile Hair Rinse

Want shiny, healthy hair?  Then this easy Chamomile hair rinse is the one for you!  Chamomile can sometimes help with the pH levels of the hair close to the cuticle, helping it lay flat and gain shine.  The small amount of natural yogurt in this rinse contains lactic acid, which can help clean your scalp, creating clean and soft hair.


Ingredients:
Freshly steeped chamomile tea

Small tablespoon plain, natural yogurt
Directions:
In a small bowl combine together the chamomile tea and natural yogurt.

Once thoroughly mixed, gently comb the mixture through your hair, from the scalp down to the ends.

Allow to sit in your hair for 5 to 10 minutes and rinse with warm water afterwards.


Looking for more tea beauty care ideas?

Check out our extensive blog catalog on our website
chadotea.com
to see our collection of Self-Care with Chado blogs.  Ranging from tea bath salts, tea soaps, tea face masks, and more we have a little something for everyone on their own tea and beauty journey!