First Flush Darjeeling Tea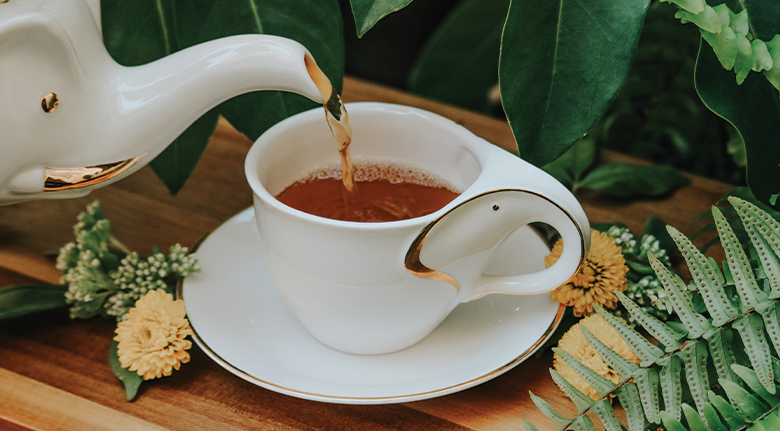 Darjeeling is home to what is known as the champagne of all teas. Often referred to as a muscatel tea or having been grown in certain terroirs, there are so many similarities to Darjeeling and Champagne or wine. Located in West Bengal, India, this land sits at a 7000ft high elevation and boasts the most incredible views of mountains, valleys, and of course tea gardens. Some of these estates have the most incredible views of the Kanchenjunga Mountains. The steep mountains of Darjeeling are covered with tea and agriculture. The narrow and winding streets becom enveloped in fog the further you climb. As you drive up the mountain you will see tea plantations from the very bottom of the mountains to the highest point.
To know Darjeelings is to know that there are four flushes throughout the year. So what is a Flush? A flush is basically the plucking time, and can indicate what the flavor profile of that tea is. Flushes are used throughout the world when referring to plucking times of teas but specifically in Darjeeling, the term flush is something to look for in order to determine the flavor profile of the tea.


First Flush Darjeelings
The first is begins in late February and can go until Mid April depending on the weather. Every year, we patiently wait for the farmers to produce the First Flush Darjeelings. First flush crops produce some of the most expensive and highly demanded teas in the world. They are a personal favorite. These teas steep a light yellow in color and typically have a floral and sweet taste to them. Its taste truly makes it distinctive from other flushes. Once you've tried a first flush, you may not want to go back!
Steeping Instructions:Use about 2.5g in 8oz of water at 180F for 3 minutes for best results. The lower temperature is also used for green teas to keep them from turning bitter.


Second Flush Darjeelings
The Second Flush produces a more robust cup. Just by looking at the leaves you can see that they have undergone a longer oxidation process which darkens the leaves. These leaves are picked in the early summer time and go until around August. These are a bit darker and more amber in color than the First Flush. The second flush Darjeelings are much more common and have a slightly fruity, astringent and nutty flavor to them. The leaves themselves are darker as well. This is a great tea for everyday drinking and to have people over for. It's also priced according to everyday consumption.
Steeping Instructions: Use 2.5g in 8oz of water at 200F for 3 minutes for best results. You can use these instructions for black teas.


Autumnal Flush Darjeelings
The Autumnal Flush is very similar to the second flush in both appearance and somewhat in taste as well. The Autumnal Flush goes from October to November. In taste, it is not as full bodied as the second flush. Rather, they are a little lighter and are not quite as dark as the second flush cup. This flush feels a little more mellow than the others in taste overall and doesn't quite have the same effect as a first or second flush.
Steeping Instructions: Use 2.5g in 8oz of water at 200F for 3 minutes for best results.
Still Curious About Darjeeling?
So if you are curious about which Darjeeling you might want to try, my answer would be that you need to try them all. Darjeeling teas are some of our bestselling teas and some of the favorite teas around the world. Try them out for yourself and let us know which flush is best for you!