All Things Gingerbread: Gingerbread Cookie Tea Infused Treats and Gifts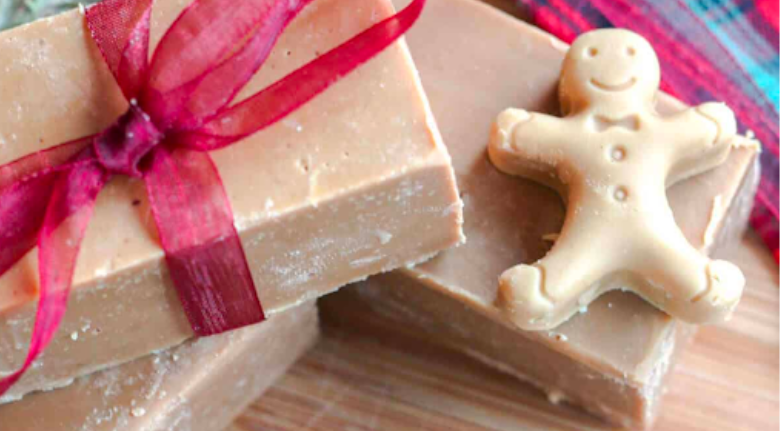 There is nothing more synonymous with Christmas than Gingerbread Cookies.  With a rich taste and sugary icing, Gingerbread Cookies have been a classic during the festive holiday season since the 15th century in Medieval England.  Today's blog is all about one of our favorite seasonal teas that gets its name from this holiday treat, Gingerbread Cookie tea.  Whether you want to gift it, drink it, or eat it, we have you covered this holiday season!
Gingerbread Cookie Tea Soap
Our first recipe today isn't for eating, it's for your self-care regimen!  With the classic scent of Gingerbread and the addition of silky oils, your skin will be left feeling Christmas ready.
Materials: 
500 grams of Olive Oil

100 grams of Coconut Oil

80 grams of Lye

½ cup of Gingerbread Cookie tea, brewed

¼ cup of molasses

Essentials oils (ginger, cinnamon, and clove)

Preferred silicone mold for the soap, we suggest a holiday mold in the shape of a gingerbread cookie
Directions: 
Make your solution first.  Pour the lye into the hot tea and stir until completely dissolved.  It will be extremely hot but will cool down slowly, so allow time for it to cool.

While the lye cools, mix together the Olive Oil and Coconut Oil.

Once the oil begins to look opaque and becomes thin, add in the molasses and essential oils. With the oils, mostly use Ginger, a few drops of cinnamon and clove.  This is up to your preference.

Fully combine all the ingredients and pour them into your prepared molds.

Once in the molds, set aside the soap for a minimum of 24 hours.  After this time period or when you can take the soap out with deforming it, carefully unmold your soap.

Leave the soap to fully harden and cure for about a month.  Leave space between each bar, and turn them over every couple of days during the first few days or week.

Once fully dry, package up and gift them to your friends and family for the holiday season!
Gingerbread Cookie Tea Cocktail 
Looking for the perfect holiday cocktail this year, then look no further!  Our recipe for a Gingerbread Cookie Tea Cocktail is sure to be a hit this Christmas.
Ingredients:
4 ounces of brewed and chilled Gingerbread Cookie Tea

2 ounces dark rum of your choice

6 ounces gingerbread cream liqueur

Festive garish of your choice (cinnamon stick, miniature cookie, rim of cinnamon and sugar)
Directions:
Brew the Gingerbread Cookie tea for 10 minutes, set aside and chill the tea before making the cocktail.

In a cocktail shaker filled with ice, combine the tea, rum, and liqueur and shake till combined.

Serve in a coupe glass like the one above, or in a traditional martini glass.

Garnish with your festive garnish of choice and enjoy!
Tea Glazed Chocolate Gingerbread Loaf 
This holiday recipe is packed with flavor and the perfect accompaniment to a steaming cup of our Gingerbread Cookie Tea.  It will leave you wishing the holiday season was all year long!
Ingredients for the Loaf:
½ cup whole milk

1 tablespoon of Gingerbread Cookie Tea

½ cup white flour

½ cup buckwheat flour

2 tablespoons unsweetened cocoa powder

½ teaspoon baking soda

¼ teaspoon salt

1 teaspoon cinnamon

¾ teaspoons ginger

¼ teaspoon nutmeg

4 tablespoons softened butter

⅓ cup packed brown sugar

1 egg

3 tablespoons molasses

3 tablespoons chopped candied ginger

½ cup dark chocolate chips
Ingredients for the Tea Glaze: 
⅓ cup whole milk

1 tablespoon Gingerbread Cookie Tea

½ teaspoon vanilla extract

2 cups powdered sugar
Instructions for the Loaf:
Preheat the oven to 350 degrees and grease a loaf pan with baking spray.

Warm the milk in a small saucepan on the stove until hot.  Add the loose tea and steep for 5 minutes. Strain the tea out of the milk and set aside.

In a large bowl, combine together the flours, cocoa powder, baking soda, salt and spices.

In a small bowl, whisk together the brown sugar and butter until smooth.

Add the egg and molasses to the small bowl and whisk until incorporated.

Add the milk and whisk again until smooth.

Pour the liquid portion into the large bowl with the flour and stir until combined.

Add the chopped ginger and chocolate chips. Fold into the batter.

Transfer the batter to the loaf pan and bake for about 30 minutes until a toothpick inserted into the middle comes out clean.

Remove from the oven and allow to cool for at least 10 minutes before removing the loaf from the pan to a cooling rack.  Allow the loaf to cool completely before glazing.
Instructions for the Glaze:
Warm the milk in a small saucepan on the stove until hot.  Add in the loose tea and steep until the milk has cooled to room temperature.  Strain the tea out of the milk and discard.

Add in the vanilla extract and stir.

Add the powdered sugar slowly and mix with a whisk until smooth.

Pour the glaze over the cooled loaf and allow to sit for a few minutes before slicing.

If glaze remains, you can either discard or add a little to each slice of the loaf prior to serving.
Today's featured tea, Gingerbread Cookie can be found on our website along with our other two holiday blends.  Get yourself or a loved one a bag or two this holiday season to add a dash of festiveness this year!