The Spirits Of Ireland: Irish Tea Cocktails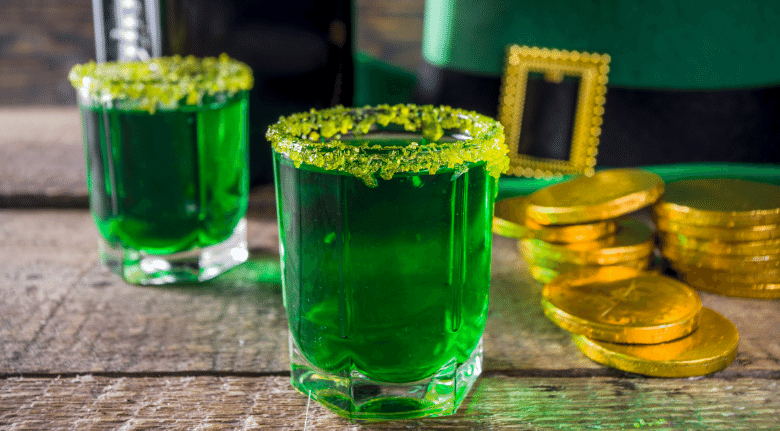 St. Patrick's Day is a spirited day celebrating the patron saint of Ireland named St. Patrick, as well as being a day where the Irish celebrate their exuberant and rich heritage. While the holiday did not start off as a day to celebrate and drink with friends and family, it has religious origins, it has turned into a day of celebrating all things Irish! Below we have collected a few tea infused cocktails recipes perfect for celebrating St. Patrick and the beautiful Emerald Isle.
Bailey's Chai Swizzle Cocktail
First up we have a cocktail containing the smooth, sweet delectable Bailey's Irish Cream. Whether you like your Bailey's on the rocks or mixed in a cocktail, this drink is sure to please your sweet tooth!
Ingredients:
1 teaspoon of Reena's Chai
(this makes one 8 ounce cup of tea)

Raw Brown Sugar

1 ½ ounce Bailey's Irish Cream

1 Cinnamon stick
Directions:
Steep one cup of Reena's Chai, add 2 teaspoons of raw brown sugar while still hot. Once the brown sugar has been added, place the Chai in the refrigerator to cool.

After the Reena's Chai has cooled, add the Bailey's and Chai to a tall glass mug and stir with a cinnamon stick. Enjoy!

Ice can be added to the glass for an extra chill.

This recipe can also be served hot if you prefer by skipping the refrigerator step.
Blood Orange, Tea + Whiskey Cocktail
This recipe packs a punch! Filled with fun and exciting flavors this recipe is a treat for any of your guests that have a bit of a wilder side. It's also perfect for yourself and 3 guests, as this recipe serves up to 4 people!
Ingredients:
1 cup Jameson Irish Whiskey, or any Irish whiskey of your choice

4 teaspoons Irish Breakfast Tea

⅓ cup Blood Orange Juice (from about 5 oranges)

¼ cup Lemon Juice (about ½ lemon)

¼ cup agave sweetener or honey

Fresh Mint for garnish

Club Soda (optional)
Directions:
Combine the whiskey and Irish Breakfast tea into a cocktail shaker. Let steep for 20 minutes and strain the whiskey to remove the loose leaf tea.

In a clean cocktail shaker add the blood orange juice, lemon juice, and sweetner to the whiskey infused tea. Fill the shaker with ice and shake well.

Add ice to four old fashioned glasses and strain the cocktail over the ice. If you like, top off the cocktail with club soda and garnish with mint.
Irish Breakfast Spritz
Light, yet ready to pack a punch this cocktail is simple to make and a little too easy to drink. Let this cocktail provide you with inspiration and the spirited energy of the Emerald Isles.
Irish Breakfast Tea Simple Syrup Ingredients:
Cocktail Ingredients:
2 ounces Irish Whiskey

½ ounce Apricot Liqueur

¾ ounce fresh squeezed lemon juice

½ ounce Irish Breakfast Tea Simple Syrup

¼ ounce Bitters

Soda Water

Lemon peel for garnish
Irish Breakfast Tea Simple Syrup Directions:
In a small saucepan, bring the water to a boil, add the Irish Breakfast tea and remove from the heat.

Let the tea steep for 5 minutes. Strain the loose leaf tea from the saucepan.

Place the saucepan back on the stove and bring to a slow boil again. Add the cane sugar and stir until the sugar has dissolved.

Remove from the heat and let cool.

You can store the simple syrup in the refrigerator until ready to use.
Irish Breakfast Spritz Directions:
In a cocktail shaker combine whiskey, apricot liqueur, lemon juice, simple syrup, and bitters with ice.

Shake well.

Strain the cocktail into a glass filled with ice.

Top with soda water and garnish with a lemon peel.
Want To Get Into the Irish Spirit Even further?
Visit our blog page to read more about Ireland's tea culture, their scrumptious pastries and the history behind their patron saint, St. Patrick.