A Taste of Ireland: Irish Afternoon Tea Treats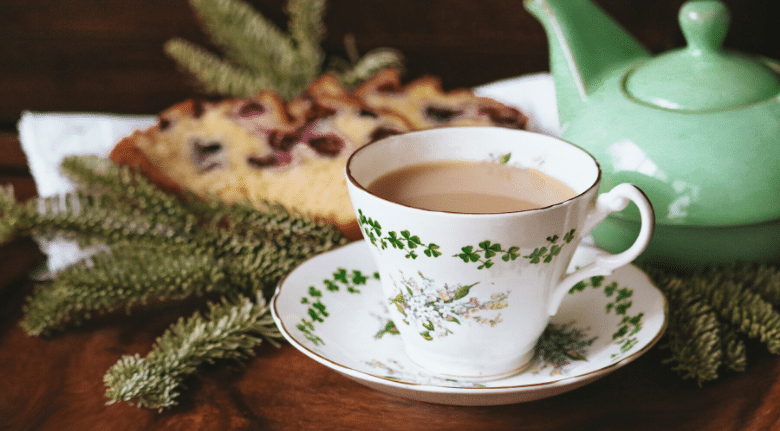 St. Patrick's Day is around the corner and there is no better way to celebrate the Irish holiday than with an afternoon tea filled with Irish inspired treats. We have compiled a group of recipes perfect for celebrating the Emerald Isle and it's lively people. Whether you have these goodies once a year to celebrate St. Patrick or all year long, you will fall in love with these quintessentially Irish treats.
Irish Apple Cake
Deliciously moist and packed with apples, this recipe is perfect for any time of the day. Whether for breakfast or an after dinner treat, you and your guests will be left wanting more.
Ingredients for the cake:
3 cups plus 3 tablespoons all purpose flour, divided

1 tablespoons baking powder

¾ teaspoon salt

½ teaspoon ginger

1 teaspoon ground cinnamon

¼ teaspoon ground allspice

¼ teaspoon freshly ground nutmeg

1 cup sugar

½ cup (1 stick) cold butter, cut into small cubes

3 large eggs

¾ cup heavy cream

2 teaspoon pure vanilla extract

1 ½ pounds (about 3 large) granny smith apples,
thinly sliced into ¼ inch pieces

3 tablespoons brown sugar for topping
Ingredients for the custard sauce:
⅓ cup sugar

4 large egg yolks

1 ¼ cup heavy cream

1 vanilla bean, halved or 2 teaspoons pure vanilla extract
Cake Directions:
Preheat the oven to 350*. Butter a 9 inch springform pan and line the sides and bottom with parchment paper.

In a medium bowl, whisk together 3 cups of flour, baking powder, salt, spices, and sugar. Add the cubed butter and incorporate with your hands until the mixture resembles sand and no large pieces are left. Whisk in the eggs, heavy cream, and vanilla.

Toss the sliced apples with the remaining 3 tablespoons of flour until they are evenly coated, then fold into the batter. Transfer the cake batter into the prepared pan and sprinkle evenly all over with the brown sugar. Bake until the apples are tender and a toothpick inserted into the center comes out clean, about an 1 hour and 20 minutes. Let the cake cool completely before removing from the pan.
Custard Sauce Directions:
In a heatproof bowl, whisk together the sugar and yolks until lightened in color, about 6 minutes. In a medium saucepan over medium-low heat, add the vanilla bean seeds and pod to the heavy cream. (If you are using vanilla extract, add once the custard is removed from heat.) Cook mixture and watch carefully, until just boiling. Remove from the heat, and wish a few tablespoons of hot cream into a sugar-yolk mixture. Gradually add in remaining cream, whisking constantly.

Return the custard to the stove over medium-low heat, stirring constantly until just thickened (do not boil), check consistency by dipping a wooden spoon in, then running a finger along the back: the streak should stay intact.

Immediately remove from heat and pout through a fine-mesh strainer into a bowl. Let cool.

Once cool, serve over a slice of apple cake.
Guinness Chocolate Layer Cake
Chocolate, Guinness, and Baileys, what more could you ask for! Not only is this recipe packed with flavor, it's decadently moist and perfect for an end of the night treat.
Cake Ingredients:
2 cups all purpose flour

2 cups sugar

¾ cup natural unsweetened cocoa powder

2 teaspoons baking soda

1 teaspoon salt

2 large eggs

1 cup milk

1 cup vegetable oil

1 ½ teaspoon vanilla extract

1 ¼ cups Guinness, divided
Guinness Chocolate Ganache Ingredients:
9 ounces semi-sweet chocolate chips

4 tablespoons Guinness

2 tablespoons heavy whipping cream
Baileys Buttercream Frosting Ingredients:
2 ½ cups unsalted butter

10 cups powdered sugar

½ cup Baileys Irish Cream

Salt, to taste
Cake Directions:
Prepare three 8 inch cake pans with parchment paper circles in the bottom, and grease the sides. Preheat the oven to 300°F.

Add the flour, sugar, cocoa powder, baking soda and salt to a large bowl and whisk together.

Add the eggs, milk, vegetable oil and vanilla extract to the dry ingredients and mix until well combined.

Add one cup of Guinness and mix until well combined.

Divide batter evenly between cake pans and bake for 33-37 minutes, or until a toothpick comes out with a few crumbs.

Remove cakes from the oven and allow to cool for about 5 minutes, then remove to cooling racks to cool completely.
Ganache Directions:
Add the chocolate chips to a medium sized bowl.

Heat the Guiness and heavy cream just until it begins to boil, then pour over the chocolate chips.

Allow to sit for 2-3 minutes, then whisk until smooth. Set aside to cool.
Bailey's Buttercream Directions:
When the cakes have cooled, make the buttercream frosting. Add the butter to a large mixer bowl and beat until smooth.

Add about half of the powdered sugar and beat until well combined and smooth.

Add about half of the Baileys and beat until well combined and smooth.

Add the remaining powdered sugar and beat until well combined and smooth.

Add additional Baileys until it reaches the right flavor and consistency. Add salt to taste.
Cake Construction:
To build the cake, use a large serrated knife to remove the domes from the top of the cakes so that they're flat.

Place the first layer of cake on a serving plate or a cardboard cake round. Brush the cake with 2 tablespoons of Guinness.

Spread about 1 cup of frosting on top of the cake layer, then pipe a dam around the outer edge, on top of the frosting.

Fill the dam with 5-6 tablespoons of chocolate ganache and spread evenly on top of the frosting.

Add the second layer of cake on top and brush with the remaining 2 tablespoons of Guinness.

Add another layer of frosting and chocolate ganache, then top the cake with the final layer of cake.

Frost the outside of the cake with the remaining frosting. Feel free to use my tutorial for frosting a smooth cake.

Use the remaining chocolate ganache to drizzle around the outside of the cake. Pipe swirls of frosting around the outer edge of the cake to finish it off.

Store cake in an airtight container. It's best if eaten within 4-5 days.
Irish Barmbrack
Packed with fruit soaked in tea and whiskey,this is the perfect recipe for a cold Irish day. Also known as an Irish Tea Cake, Barmbrack can be traced back for generations and is a treat for all during a spot of tea.
Ingredients:
¾ cup raisins

¾ cup sultanas

¾ cup currants

¼ cup candied peel or the zest of 1 lemon

1 cup hot, Irish Breakfast tea

¼ cup whiskey

1 egg, lightly beaten

1 ¾ self-raising flour

1 ¼ cup light brown sugar

1 teaspoon of mixed spice, like pumpkin spice
Directions:
Place the raisins, sultanas, and currants in a bowl and cover with the hot Irish Breakfast tea and whiskey. Leave them overnight to plump up.

The next day, line a loaf pan with parchment paper.

Preheat the oven to 350 degrees.

Add the egg, sugar, flour, and mixed spice to the fruit and tea mixture. Stir well.

Place the mixture into the prepared loaf pan. Cook for about 1 ½ hours or until a wooden skewer inserted comes out clean.

Leave to cool on a wire rack and keep in an airtight container.
Our Tea of Choice
Being that St. Patrick's Day is coming up, you can't drink any other tea than our Irish Breakfast Tea. This blend is a combination of Assam and Chinese black teas, creating a smooth and sophisticated cup of tea.