The Perfect Pairing: Autumnal Shortbread and Tea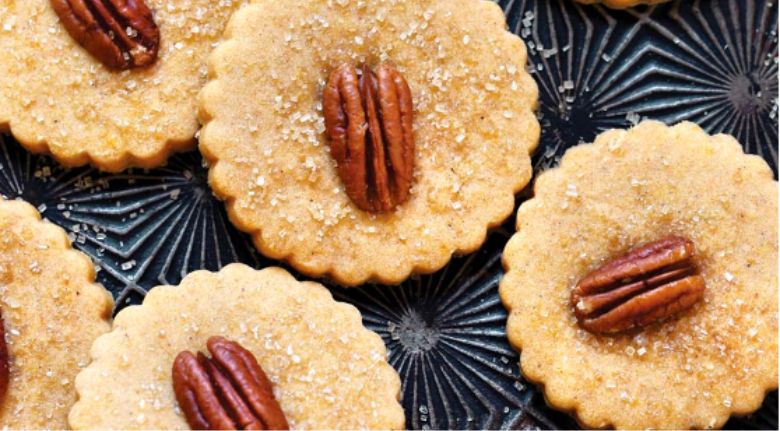 Nothing goes together quite as perfectly as buttery shortbread and a rich cup of tea. Shortbread can trace its origin back to the 12th century and received a makeover into what we know it as now during the 16th century due to Mary Queen of Scots. Originally not an everyday delight, shortbread was usually reserved for special occasions such as weddings, baptisms, and holiday celebrations such as Christmas. Many countries around the world make their own versions of shortbread but the one's most famous for it are the Scots. Shortbread has become synonymous with the Scottish and they are known for making the world's finest shortbread. Containing simple ingredients of butter, flour, sugar, and salt, Scotland is the place to go for the perfect buttery bite of this delectable delight. Today we're going to share two autumnal Shortbread recipes and the perfect tea to pair them with.
Chai Inspired Shortbread
Prep Time: 10 minutes cookies

Cooking Time: 10 minutes

Optional Step, Chill Time: 1 hour
Ingredients:
1 1⁄4 cup all purpose flour

1⁄2 cup/1 stick of butter, softened to room temperature

1⁄4 cup brown sugar

1⁄2 teaspoon vanilla extract

Pinch of salt

1⁄2 teaspoon cinnamon

1⁄4 teaspoon ground nutmeg

1⁄2 teaspoon ground allspice

1⁄8 teaspoon ground cloves
Directions:
In a bowl cream together the butter, sugar, and vanilla until it is light and fluffy, about 2 to 3 minutes.

In another bowl combine the flour, spices, and salt. Whisk together.

Add the dry ingredients to the butter mixture, and fold gently to combine until the dough

begins to form and no dry flour remains. Some loose dough crumbs are fine.

Turn the dough out onto a clean surface covered with plastic wrap or parchment paper.

Proceed to press the dough into a rough log.

Tightly wrap the dough in the plastic wrap or paper and twist off the ends. Roll gently against a firm surface, pressing gently against the ends to keep the log width the same.

When the dough becomes smooth and round, transfer to the fridge to chill for 1 hour, this step is optional.

Preheat the oven to 350 degrees, line a baking sheet with parchment paper.

Slice the cookies 1⁄4 inch thick with a sharp knife and place on the parchment paper, leaving a small amount of space between them.

Bake for 10 minutes or until the top of the shortbread is no longer glossy. The bottom edges should be barely golden.

Allow to sit for 2 minutes on the baking sheet then transfer to a cooling rack to cool completely before storing.
Pumpkin Spice Shortbread
Prep Time: 15 minutes

Cooking Time: 20 minutes

Chill Time:
Ingredients:
3⁄4 cup unsalted butter, softened to room temperature

2⁄3 cup granulated sugar

1⁄3 cup canned pumpkin puree

1⁄2 teaspoon vanilla extract

1 3⁄4 cups all purpose flour

1 teaspoon ground cinnamon

1⁄8 teaspoon ground cloves

1⁄8 teaspoon ground ginger

1⁄8 teaspoon ground nutmeg

1⁄8 teaspoon fine sea salt

2 tablespoons turbinado sugar

24 pecans halves
Directions:
In a bowl of a stand mixer with the paddle attachment, beat the butter and granulated

sugar at medium speed until creamy, about 3 to 4 minutes. Make sure to stop

occasionally to scrape down the sides.

With the mixer on medium-low speed, add in the pumpkin puree and vanilla extract,

beating until combined.

In a medium bowl, whisk together the flour, cinnamon, cloves, ginger, nutmeg, and salt.

With the mixer on low speed, add the flour mixture to the butter mixture, beating until combined and dough starts to come together. Turn the dough and shape into a disk. Wrap tightly in plastic wrap and refrigerate until firm, about 2 hours.

Preheat the oven to 350 degrees and line 2 baking sheets with parchment paper.

On a lightly floured surface, roll the dough to a 1⁄4 inch thickness. Using a 2 1⁄2 inch fluted

round cutter dipped in flour, cut dough, rerolling scraps as necessary. Place onto the

prepared pans and refrigerate for 20 minutes.

Sprinkle the cookies with the turbinado sugar and press a pecan half into the center of

each cookie.

Bake until the tops and edges are set, about 12 to 15 minutes. Make sure to rotate the

pans halfway through the baking.

Let cool on the baking sheet for about 10 minutes. Remove from the baking sheet and

let cool completely on wire racks.
The Perfect Tea Pairing
Below you'll find a couple of our recommendations for the perfect cup of tea to enjoy with the delectable shortbread recipes above. From straight black teas to flavored herbal blends, we have every tea lovers palette covered.
Margaret's Hope Autumn Darjeeling
This is your morning wake-up call. Bustling with the taste of crisp, autumn leaves, the bold flavor of this tea has been moving early risers to wake up and smell the roses. With its strong aromatic flavor our Margaret's Hope Autumn Darjeeling is perfect for anytime of the year, not just fall.
Flavor Profile: Malty, Rich, Robust
A blend of South African rooibos tea and bourbon vanilla, this aromatic blend has a delicate yet not overwhelming taste. It is both comforting and grounding and provides a bright and uplifting aroma. The perfect companion to accompany your daily routine.
Flavor Profile: Calming, Caramel, Vanilla
Bring the exotic tastes of the Far East to your home with this authentic, Indian-style loose tea. Its rich black tea leaves are infused with strong flavors of cardamom, cinnamon, vanilla and ginger to give you a spicy treat to brighten your days.
Flavor Profile: Smooth, Spicy, Warm
Your dearly departed will love the rich, velvety chocolate flavor paired with the fixings of pumpkin spice. This rooibos based treat will leave you wanting more and wishing that fall didn't come but once a year!
Flavor Profile: Caramel, Smooth, Sweet
Let Us Know!
Share with us your favorite shortbread recipe or if you try to make the above recipes for yourself! Check us out on Instagram and Facebook for all of the latest Chado news.