Spooky Matcha Halloween Treats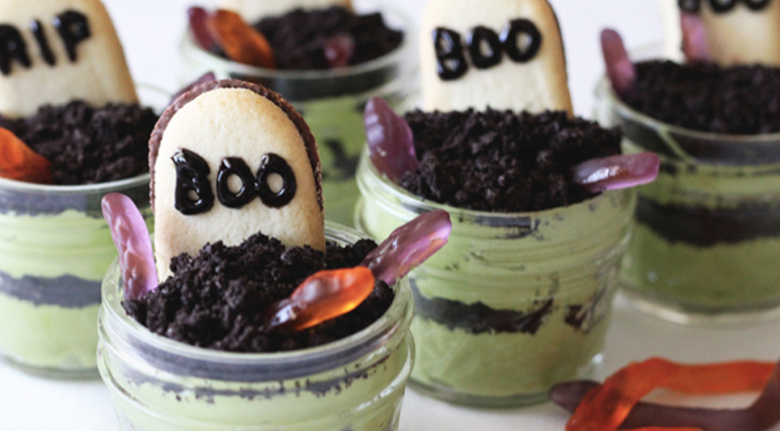 Halloween is just around the corner and we have some spooky Matcha based desserts sure to entertain family and friends of all ages. In the 21st century Matcha has become a staple in the culinary world, people don't only enjoy it as a beverage anymore. They drink it, cook with it, and bake with it! Today we are sharing three Halloween Matcha desserts that not only taste great but look the part during the spookiest time of the year!
Little Frankenstein Cookies

To kick things off we are starting with the cutest little Frankenstein cookies you ever did see! Doctor Frankenstein's monster gets his color and delightful flavor from the signature ingredient, Matcha.
Ingredients:
Makes approximately 40 x 1.5-inch square cookies
2 cups all-purpose flour

⅓ cup caster sugar

2-3 Tablespoons unsweetened green tea powder (matcha)

230 grams (a hair over 1 cup) softened unsalted butter

½ teaspoon vanilla extract
Decorations:
black and white royal or cookie icing

white chocolate melts and matcha powder (optional)

heart or bone sprinkles (optional)
Directions:
To make cookies: Sift matcha and flour in a bowl and set aside. In a separate bowl, mix butter and sugar until light and fluffy; then add vanilla until incorporated. Gradually add the dry ingredients until just combined, then shape into two evenly sized discs and wrap in cling wrap. Refrigerate for at least one hour.

When the dough has chilled, preheat the oven to 350 degrees Fahrenheit and line the baking tray with parchment paper. Roll out dough to 1/4 inch thick and cut into squares. Transfer onto a baking tray and place in the freezer for 10-15 minutes before baking.

Bake for approximately 14-16 minutes, or until the edges begin to brown. Transfer to a cooling rack and allow to cool completely before decorating.

To decorate: Using store bought or homemade cookie/royal icing, pipe on the eyes with white icing, then add the hair, scars and facial details with black icing. You can use a thin piping tip, or just cut a small hole at the end of your Ziplock or piping bag.
Optional:
Add nuts and bolts on the side of Frankenstein's face to give him a little more character. Using heart or bone sprinkles, cut off the end with a sharp knife. Stick them onto the cookies with melted chocolate and paint with silver edible paint for extra detailing.

As a way to sweeten the cookies, dip the back of the cookies in chocolate. You can use chocolate melts and add additional Matcha powder to the chocolate as well!
Halloween Mud Cups

For our second dessert it will take you back to the good old elementary school days when Mud Cups were always a hit for every class party.
Ingredients:
8 oz (1 package) cream cheese, room temperature and soft

3 Tbsp heavy cream

1 cup powdered sugar, sifted

2 tsp Chado Matcha

10 oreo cookies

4 oval shaped cookies (we used Milano)

Gummy worms, to top

Black icing, for writing
Directions:
Place the oreo cookies in a medium sized ziploc bag and crush using a rolling pin until fine crumbs form. A food processor works as well.

Using an electric hand mixer or stand mixer, beat the cream cheese until smooth.

Sift the powdered sugar and Matcha directly into the bowl and add the heavy cream. Beat for a few minutes or until smooth.

Layer the Matcha cream cheese mixture and oreo crumbles into small glass jars or ramekins. Decorate with oval shaped cookies (for headstones) and gummy worms, as desired.

Serve chilled and enjoy!
Spooky Matcha Monster Bundt Cake

For dessert number three we are sharing with you a recipe for a spooky Matcha Monster Bundt Cake. This cake would make for the perfect centerpiece on Halloween night!
Ingredients:
Butter, for greasing the pan

2 ½ cups for all-purpose flour, plus more for dusting the pan

1 ¾ cups sugar

1 ½ teaspoons baking soda

1 teaspoon kosher salt

⅔ cup brewed coffee

½ cup unrefined coconut oil

⅓ cup unsweetened cocoa powder
4 ounces semi sweet chocolate, chopped

One 14-ounce can coconut milk

1 teaspoon vanilla extract

2 large eggs, lightly beaten

16 ounces white chocolate, chopped (or white chocolate chips)

2 teaspoons cooking-grade matcha

Candy eyeballs, for decorating
Directions:
Preheat the oven to 350 degrees F. Generously grease a 10- to 12-cup bundt pan with the butter, then dust it with flour, tapping out any excess.

Whisk together the flour, sugar, baking soda and salt in a large mixing bowl; set aside.

Heat the coffee, coconut oil, cocoa powder, semisweet chocolate and 1/3 cup of the coconut milk in a small saucepan over medium heat, stirring frequently, until the chocolate is melted and makes a smooth sauce, 4 to 5 minutes. Fold the chocolate mixture into the flour mixture until smooth and combined. Fold in the vanilla and eggs until smooth.

Pour the batter into the prepared pan and bake until a toothpick inserted in the center comes out clean, 45 to 55 minutes. Let the cake cool in the pan for 10 minutes, then turn it out onto a cooling rack set inside a baking sheet to cool completely, 1 to 2 hours.

Meanwhile, make the ganache: Put the white chocolate in a heatsafe bowl; set aside.

Sift the matcha into a saucepan and whisk in 1/4 cup of the coconut milk. Keep whisking until no lumps remain. Whisk in the remaining coconut milk. Set over medium heat and cook, stirring often, until the mixture just begins to boil. Pour it over the white chocolate, let it sit for a few seconds, then stir it all together until the chocolate melts. Let the ganache cool slightly, stirring often, until no longer hot to the touch and thickened but still pourable.

Pour 1 cup of the ganache over the cake and refrigerate until hardened, about 10 minutes. Pour the remaining ganache over the cake and refrigerate until hardened, about 10 minutes. Scrape the ganache at the bottom of the baking sheet back into the bowl and pour it over top once more. Let it harden, about 10 minutes.
Want To Try A Tea Blend Filled With Magic?
Try our Black Magic tea blend that will bewitch you with its pumpkin spice, caramel flavor!