Throwing the Perfect Halloween Tea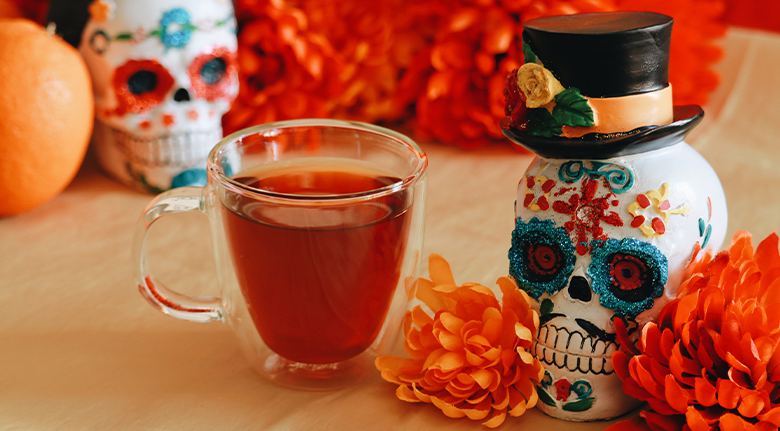 Spooky season has arrived and a Halloween inspired afternoon tea is perfect for kids and adults alike to get into a festive mood. Let us inspire you with the perfect yummy treats, spooktacular decor, and last but not least the most delectable pumpkin spice teas to finish off your Halloween celebrations. These Tricks and Treats will leave your ghouls and ghosts in pure delight by the end of the night!
Chocolate, peanut butter, caramel, pumpkin oh my! These are just a couple of the delectable flavors we enjoy this time of the year when trick or treating or when having a scary movie night. In today's blog we will highlight two recipes that not only taste great but help set the tone for your spooky afternoon fun!
Scary Peanut Butter Spider Cookies

Not only are these cookies fun to eat but they are fun to make! Sure to entertain adults and kids alike, these Scary Peanut Butter Spider Cookies are a hit from start to finish. This recipe yields about 24 cookies.
Ingredients:
¾ cup all purpose flour

¼ teaspoon baking soda

½ cup granulated sugar

Pinch of fine salt

4 tablespoons unsalted butter, at room temperature

Miniature Reese's peanut butter cups or Rolos, enough to use 2 per cookie
½ teaspoon pure vanilla extract

1 large egg

½ cup smooth peanut butter

2 ounces of semisweet chocolate

1 small tube white cake decorating gel
Directions:
Position oven racks in the top and bottom thirds of the oven and preheat to 375 degrees F. Line 2 baking sheets with parchment paper.

Set aside the mini peanut butter cups to create the head and body of the spiders.

Whisk together the flour, baking soda, and salt in a small bowl. Cream the butter and sugar together in a medium bowl with an electric mixer on medium-high speed until light and fluffy, 3 to 4 minutes. Add the vanilla and egg, mix until thoroughly combined, about 1 minute. Add the peanut butter and mix until creamy, about 1 minute. Turn the mixer speed down to low and add half of the flour mixture. Beat on medium speed until incorporated, then turn the speed down to low again and add the remaining flour mixture. Beat on medium until incorporated.

Roll the dough by hand into 1-inch balls, place about 1 inch apart on the prepared baking sheets and bake, rotating the pans halfway through, until the cookies are light golden brown and have spread to about 2 inches wide, about 16 minutes. The cookies are done when the tops feel dry and slightly firm when pressed with your fingers.

While the cookies are baking, melt the semi-sweet chocolate. This can be done on the stovetop with a double boiler or in the microwave. Let the chocolate cool briefly so that it is slightly thickened but still soft enough to pipe with.

When the cookies are done, remove from the oven and transfer them to a cooling rack. Immediately push the mini peanut butter cups directly into the hot cookie.

When the melted chocolate has thickened slightly, place it into a plastic bag and cut a small hole in the corner to create a piping bag. Pipe 8 legs on each cookie, starting from the point where the two peanut butter cups meet. Pipe the front 4 legs so that they curve up toward the head and the back 4 legs so that they curve backward beyond the body. Set aside the remaining chocolate in the piping bag for the pupils of the eyes.

To make the eyes, pip two ¼ inch circles on the "heads" of the spiders with the cake decorating gel. Pipe a tiny dot of the remaining melted chocolate in the center of each to make the pupils.
Pumpkin Spice Scones

An afternoon tea isn't complete without soft, warm scones to enjoy. The delectable aroma and taste of these Pumpkin Spice inspired scones will be the perfect accompaniment to your Halloween tea.
Ingredients:
2 ¾ cups all-purpose flour

⅓ cup granulated sugar

1 tablespoon baking powder

¾ teaspoon salt

1 ½ teaspoons pumpkin pie spice or ¾ teaspoon cinnamon, ¼ teaspoons each of ginger, nutmeg, and allspice
8 tablespoons butter, cold

1 cup to 2 cups minced crystallized ginger, cinnamon chips, or cinnamon sweet bits

⅔ cup pumpkin purée

Coarse sparkling sugar for topping
Directions:
In a large bowl, whisk together the flour, sugar, baking powder, salt, and spices.

Work in the butter just until the mixture is unevenly crumbly, it's ok for some of the larger chunks of butter to remain unincorporated.

Stir in the ginger and or cinnamon chips if you are using them. <>

In a separate bowl, whisk together the pumpkin and eggs until smooth.

Add the pumpkin and egg mixture to the dry ingredients and stir until all is moistened and holds together.

Line a baking sheet with parchment paper. Sprinkle a bit of flour onto the parchment sheet.

Scrape the dough onto the parchment paper and divide it into half. Round each halt into a 5 inch circle if you have no add-ins, or a 6 inch circle if you added the ginger and cinnamon chips. The circles should be about ¾ inch thick.

Brush each circle with milk and sprinkle with coarse white sparkling sugar or cinnamon sugar.

Using a knife that you've run under cold water, slice each circle into 6 wedges.

Carefully pull the wedges away from the center to separate them just a bit; there should be about ½ inch space between them, at their outer edges.

For the best texture and the highest raise, place the pan of the scones in the freezer for 30 minutes, uncovered. While the scones are chilling, preheat the oven to 425*F.

Bake the scones for 22 to 25 minutes, or until they are golden brown and a toothpick inserted comes clean, with no wet crumbs. If you pull one of the scones away from the others, the edges should look baked through, not wet or doughy.

Remove the scones from the oven, and serve warm. Wrap any leftovers in an airtight container, and store at room temperature.
The Final Touch

Once you have prepared a few frightful treats, it's time to set the scene. Take inspiration from a couple of signature Halloween colors like orange, black, and purple. Your decor can range from classic Halloween with Jack o' lanterns, to a witchy vibe with cauldrons and spell books, and all the way to scary Halloween slasher movies with fake blood and prop knives. Let your imagination run wild and decorate based upon your guests ages and interests, there is no right or wrong way when it comes to Halloween!
To wrap this blog up let's talk about what teas to serve for this ghoulish event. Here at Chado we like to celebrate what we call Chadoween and our three Pumpkin Spice teas are perfect for your very own Chadoween celebration.
Black Magic: Halloween is just around the corner and we here at Chado are ready to bewitch you with this enchanting Pumpkin Spice tea. Cast a spell with this blend which boasts a beautiful, malty, caramel flavor!

Ingredients: Black Tea, Apple Pieces, Ginger Root, Carrots, Roasted Mate, Cloves, Caramel Pieces, Natural Flavor

Basic Witch: Don't ever let someone call you a Basic Witch again, at least not while drinking this blend! Channel your inner (not so) Basic Witch with our spellbinding sencha blend. It's not your average Pumpkin Spice, but a sure treat for green tea lovers!

Ingredients: Sencha green tea, Apple Pieces, Ginger Root, Carrots, Cloves, Safflower, Natural Flavor

Dia De Los Muertos: Your dearly departed will love the rich, velvety chocolate flavor paired with the fixings of pumpkin spice. This rooibos based treat will leave you wanting more and wishing that fall didn't come but once a year!

Ingredients: Rooibos, Apple Pieces, Ginger Root, Carrots, Cloves, Chocolate Pieces, Natural Flavor
Want To Browse More Of Our Products
Check out our Selection of Teas we have to offer from all over the globe.