Self-Care with Chado: Matcha Skin Care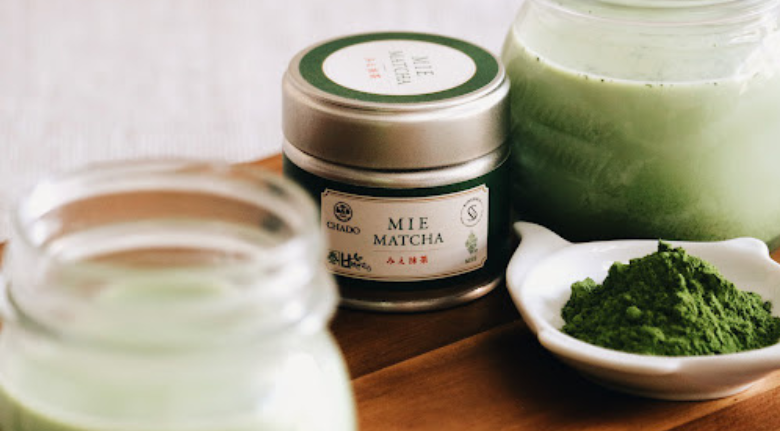 Lately Matcha has been a tea with an ever growing popularity thanks to the likes of social media. Fans across the globe are crafting scrumptious Matcha based lattes, cocktails, and delectable desserts with this famous Japanese import.

But did you know that you can use Matcha in your skincare routine?

Today we have two great skin care creations that are not only great for your skin but fun to make and get inspired by to create your own tea skin care!


Matcha Skin Salve
A salve is something similar to a lotion, just a little thicker in consistency and can be infused with aromatic oils.   
Ingredients:
2 teaspoons beeswax

1 teaspoon sweet almond oil

1 tablespoon coconut oil

½ teaspoon Chado x Sinensis Ceremonial Matcha

12 drops of frankincense essential oil

8 drops geranium essential oil

7 drops myrrh essential oil
Directions:
In a double boiler over medium heat add in the beeswax, coconut oil, and sweet almond oil. Stir frequently until melted and well combined. Turn off the heat.

Add in the frankincense and geranium essential oils. Stir the oils in well.

Add in the Chado x Sinensis Ceremonial Matcha, allow it to melt into the mixture for a few seconds and then stir slowly. It may clump, do not worry, you can release the clumps by using the back side of your spoon to push the clumps up against the side of the pot and break them up. Mix well until all ingredients are combined.

In a glass container, pour in the mixture but do not cover it. Allow the mixture to cool, it will go from a see through green mixture to a solid light green.  If covered too soon moisture will gather on the top of the salve and ruin it.

When using, a little goes a long way! Use a small amount and gently rub into the skin.
Matcha Sugar Scrubs
Looking for a smooth and supple way to treat your skin? This matcha sugar scrub is just the trick to add to your routine!
Ingredients:
1 cup clear glycerin soap base

½ cup coconut oil

⅓ cup shea butter

1 cup granulated sugar

10 to 12 drops of cedarwood, geranium, and bergamot essential oil

1 to 2 tablespoons Chado x Sinensis Ceremonial Matcha

Silicon mold of your choosing
Directions:
In a microwave safe bowl combine together the soap base, coconut oil, and shea butter. Melt in 30 second intervals and make sure to stir between heating.

Once melted, add in the essential oils and Chado x Sinensis Ceremonial Matcha and stir well. 

Add in the sugar and stir until a thick paste has formed.

Add the mixture into the silicon mold and press the mixture in firmly.  Allow to sit for at least 2 hours or overnight if you are willing to wait!

Store in an airtight container in a cool, dark place.
Want a little bit of background information about our unique matcha? Here's a quick background into what makes our Matcha special.
Our ceremonial matcha comes from the Japanese prefecture of Mie. Historically, Mie has only supplied tea to Japan and Europe. Only recently have they expanded to the US.
Together with our cousins from Tijuana, Sinensis Tea Bar, we are introducing a delicious matcha from this beautiful region!