Masala Chai Brownies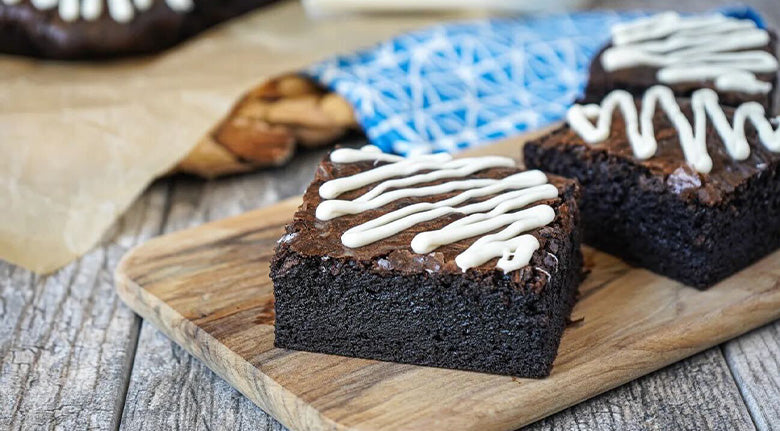 Sugar, spice, and everything nice! Masala Chai Brownies are today's tasty treat, perfect for a fall afternoon cup of tea. Not only do they pack a punch flavor wise, they are dairy and egg free as well making these a great treat for anyone with allergies.
Masala Chai Brownies
Prep Time: 10 minutes
Cook Time: 20 minutes
Ingredients:
2 tablespoons unsweetened cocoa powder

⅓ cup unsweetened shredded coconut

1 cup all-purpose flour

1 cup white sugar or brown sugar if you prefer the added molasses flavor

¼ cup unsweetened cocoa powder

½ teaspoon baking powder

½ teaspoon salt

½ cup very strongly brewed Reena's Chai

½ cup canola oil

½ teaspoon vanilla extract
Directions:
Preheat the oven to 350*F. Spray an 8 by 8 inch baking pan with baking spray, and dust lightly with the 2 tablespoons of cocoa powder.

Place the coconut in a blender or food processor and pulse to a mince, set aside.

Whisk together the flour, sugar, ¼ cup cacao powder, baking powder, and salt.

Stir in the brewed chai, canola oil, and vanilla extract until all the ingredients are moistened.

Gently fold in the coconut.

Spread the batter into the prepared pan.

Place in the oven and bake until the top is no longer shiny, about 20 minutes.

Allow to cool for 1 hour before cutting.

Optional, drizzle with white chocolate.
Try Today's Tea!
Try today's highlighted tea, our signature Reena's Chai.
Bring the exotic tastes of the Far East to your home with this authentic, Indian-style loose tea. Its rich black tea leaves are infused with strong flavors of cardamom, cinnamon, vanilla and ginger to give you a spicy treat to brighten your days.