Love Potion No9 Valentine's Day Tea Cocktail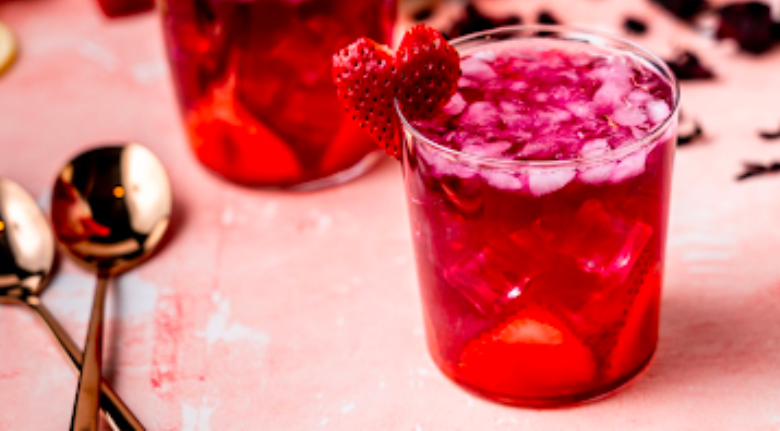 The holiday of love is just around the corner and we have the perfect tea cocktail recipe for you to share with your best gal pals or your true love.  Love Potion No9 is a tea cocktail that will transform your taste buds as it bursts with flavors of hibiscus, berries, and citrus.  Today's recipe base is our fan favorite tea Hawaiian Cocktail, a tea that's a treat for all the senses.
Ingredients:
Muddled Strawberries:
1 cup strawberries, roughly chopped

¼ cup honey or sugar, based on your preference

¼ cup water
Hibiscus Tea:
Cocktail List:
2 - 3 tablespoons muddled strawberries

2 ounces hibiscus tea

2 ounces gin

1 ounce lemon juice, freshly squeezed

Ice
Garnish:
Strawberries

Lemon slices
Directions: 
Begin by steeping the Hawaiian Cocktail and allow to brew for 5 to 7 minutes, depending on the desired flavor strength.  Once done, transfer to a glass container and refrigerate.

To make the muddled strawberries, add the water and honey/sugar to a small saucepan over medium heat.  Whisk the mixture together until you can no longer see the honey/sugar in the water.

Remove the honey/sugar water from the heat and add in the strawberries and muddle together to combine the mixture.

Add 2 to 3 tablespoons of muddled strawberries to a glass, followed by ice and Hawaiian Cocktail.

Add in the gin and fresh squeezed lemon juice.

The drink will have a beautiful gradient, but if you prefer you can gently stir the drink to further combine the ingredients.

Garnish with strawberries and lemon slices. Enjoy!
This tropical fusion is inspired by the vivacious South Pacific spirit of Hawaii. A blend of pineapple, papaya, orange, mango, raisins, rosehips and hibiscus steeps to a beautiful red. Best enjoyed hot or with ice, this cocktail refreshes in an island-style.