In the Kitchen with Chado: Tea Infused Crème Brûlée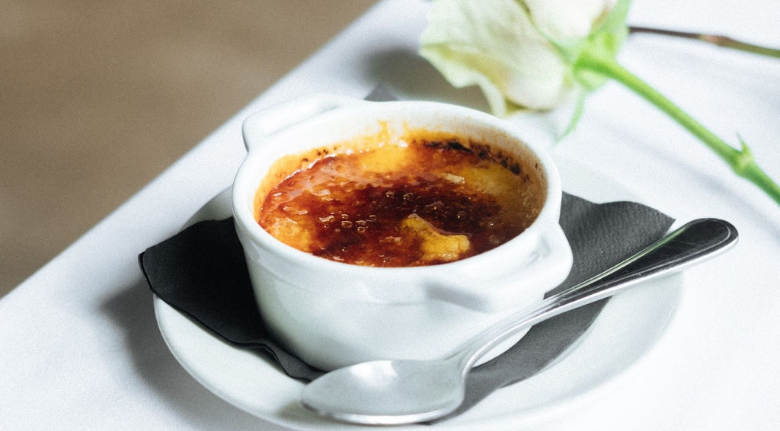 Crème Brûlée, a decadent dessert whose origins can be traced back to the splendorous Palace of Versailles.  This sweet treat has survived the test of time and is constantly being rejuvenated with fun and exciting ingredient additions.  Today's recipe is no different, we have a yummy crème brûlèe recipe that includes our Reena's Chai.  This creamy tea infused treat is sure to delight your taste buds!
Chai Crème Brûlée
Ingredients:
2 cups heavy cream

3 tablespoons Reena's Chai

5 egg yolks

½ cup sugar, plus more for finishing

1 teaspoon pure vanilla extract
Directions:


Preheat the oven to 300*F, place four 6 ounce shallow ramekins on a rimmed baking sheet.

In a medium pot, combine together the heavy cream and tea and bring to a simmer over medium heat.  Once the cream comes to a simmer, remove the mixture from the heat and allow to steep for 15 minutes.

Strain the tea from the cream, then return it to a simmer over medium heat.

While the cream comes to a simmer, whisk the egg yolks with the sugar and vanilla extract in a medium bowl.

Once the cream comes to a simmer, gradually pour it into the egg mixture, whisking constantly to combine.

Ladle the mixture into the ramekins, filling them almost to the top. Transfer the baking sheet to the oven, then pour hot water into the baking sheet so it comes about halfway up the ramekins.

Bake until the custard appears set at the surface and has a slight jiggle when shaken, about 30 to 35 minutes.  Cool the custard to room temperature, about 45 minutes, then refrigerate until completely chilled, about 1 hour.

When ready to serve, sprinkle 1 tablespoon of sugar on top of each ramekin, then shake the ramekin slightly to make sure the sugar is evenly distributed.  Use a torch to brown the sugar into a caramel coating.  Serve immediately.



Try today's tea!



Reena's Chai - Bring the exotic tastes of the Far East to your home with this authentic, Indian-style loose tea. Its rich black tea leaves are infused with strong flavors of cardamom, cinnamon, vanilla and ginger to give you a spicy treat to brighten your days.

Flavor Profile - Smooth, Spicy, Warm

Ingredients - Black tea, cinnamon, ginger, cardamom, and vanilla

Steeping Instructions - Boil water to 212*F, steep for 3 minutes, and enjoy!