Drinks with Chado: Spring Inspired Tea Cocktails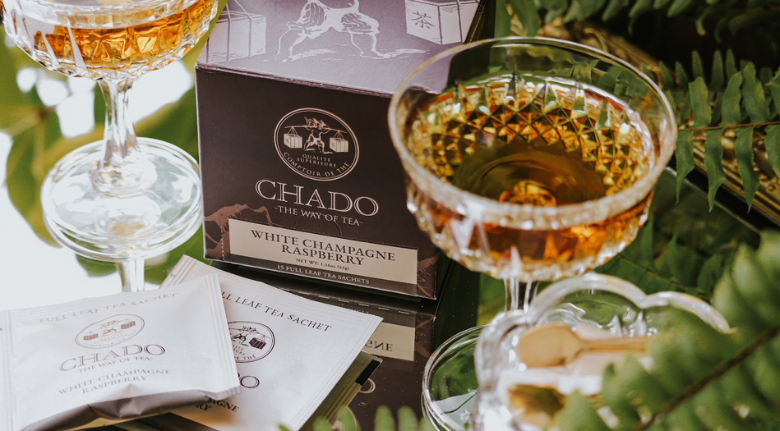 As the heat makes its way back to southern California, most of us start daydreaming of days spent basking in the sun with a nice cool drink in hand.  Refreshing and light cocktails are the perfect drink for this time of the year if you are looking for a little pep in your step!  Today we have two tea cocktails, ideal for bringing in the season of flowers, smiles, and sunshine.
White Champagne Raspberry Cocktail


This cocktail is perfect for an afternoon picnic or even a fun and boozy afternoon tea with friends!
Yield: 1 cocktail


Ingredients for Infused Gin/Vodka:
1 bottle of either Gin or Vodka
Cocktail Ingredients:
2 to 3 teaspoons Raspberry syrup, can either be store bought or made from scratch

½ ounce of Infused Gin/Vodka

Chilled Prosecco

Raspberries for garnish
Directions:
In a glass bottle, combine the gin/vodka with the 2 White Champagne Raspberry Pyramid Tea Bags. Allow to sit for 4 hours and then discard the tea.

In a champagne glass or flute, add in the infused gin/vodka and raspberry syrup.  Gently stir until combined.

Add in 2 raspberries and top with Prosecco. Enjoy!

 
Whiskey and Jasmine Green Tea Chill
Playing up the punch of the whiskey with the delicate floral notes of the Jasmine, this cocktail is sure to please any guests that come across your door!
Yield: 4 cocktails


Ingredients:
8 to 12 ounces Irish Whiskey

½ cup sugar

Dried jasmine flowers for garnish

Lemon slices for garnish
Directions:
Bring 4 cups of water to a boil in a medium saucepan, add in the sugar and stir until dissolved.  Let cool for 2 minutes.

Add in the Jasmine Green PTBs and let steep for 3 to 4 minutes.

Transfer the tea into a jug and refrigerate till cool.

In four glasses, add ice and 2 to 3 ounces of whiskey.

Add in 8 ounces of the tea and garnish with the jasmine flowers and lemon slices.

 
Looking for the perfect Spring tea?
Visit our
website
today to find the perfect spring inspired tea for you!