Drinks with Chado: Fall Iced Tea Lattes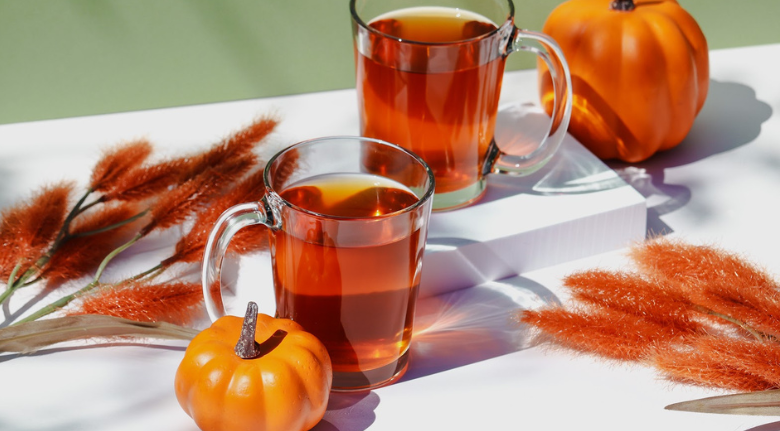 While everyone is in full Fall mode here in California, the weather sure isn't.  Our days are still hot and the temperatures are hitting the low 90s, but it doesn't mean we aren't in a Fall state of mind.  Today we have two yummy Fall Iced Tea Latte recipes, perfect to welcome in Fall but in a cool, yet flavor packed way. 
Cookie Butter Iced Chai Latte
This tea latte is a great dairy free option!  Made with oat milk and full of flavor, this latte will become a go to favorite for fall. 
Serving: 2 Tea Lattes
Base Ingredients:
Brown Sugar Syrup Ingredients:
4 tablespoons lightly packed brown sugar

½ teaspoon ground cinnamon

6 tablespoons water

1 teaspoon vanilla extract
Directions:
Brew the 2 tablespoons of Reena's Chai with 1 ½ cups of water for 5 minutes.

In a small pot over medium to high heat, add in the brown sugar syrup ingredients.  Whisk together to combine.  Once it starts to simmer, lower the heat to medium to low heat for about 3 to 5 minutes, stirring frequently until the sugar has dissolved and the syrup has thickened slightly.  Remove from heat and set aside.

Add in 2 tablespoons of the brown sugar syrup to the hot tea and stir until combined.

Fill two glasses about ¾ quarters of the way full with ice.  Split the chai tea between the two glasses and top with oat milk.

Garnish with powdered cinnamon and enjoy!
Apple Butter Iced Pumpkin Spice Tea Latte
This iced tea latte is simple to make!  With only 5 ingredients, you'll be out of the kitchen in no time to enjoy the beautiful fall weather outside with your latte in hand.  
Serving: 1 latte
Ingredients:
1 tablespoon Black Magic Tea

1 tablespoon apple butter

1 cup milk, of your choosing

Caramel syrup, garnish
Directions:
Steep 1 cup of the Black Magic tea for 5 minutes, you can steep it for less if you don't want a strong cup of tea

To the hot tea, add in 1 tablespoon of apple butter. Stir to combine thoroughly.

In a glass, drizzle caramel along the sides.

Add ice to the glass, ¾ quarters of the way.

Add in the tea and top with the milk of your choice.

Drizzle with more caramel syrup and enjoy!
Interested in trying today's teas?
Bring the exotic tastes of the Far East to your home with this authentic, Indian-style loose tea. Its rich black tea leaves are infused with strong flavors of cardamom, cinnamon, vanilla and ginger to give you a spicy treat to brighten your days.
Ingredients: Black tea, cinnamon, ginger, cardamom, and vanilla
Flavors: Smooth, Spicy, Warm
Halloween is just around the corner and we here at Chado are ready to bewitch you with this enchanting tea. Cast a spell with this blend which boasts a beautiful, malty, caramel flavor!
Ingredients - Black tea, apple pieces, ginger root, carrots, roasted mate, cloves, caramel pieces, natural flavor
Flavors: Caramel, Spiced, Warm