Chado's June Tea Picks: Iced Teas to Cool Off With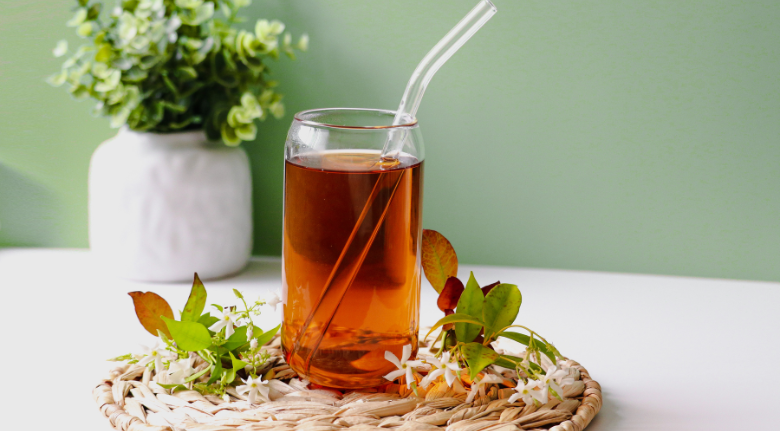 June is here and all we're thinking about is enjoying a nice cold glass of Iced tea to kick off summer with.  Today we have compiled a selection of five teas perfect for summer.  Whether you like a black tea, green tea, or herbal infusion, we have a tea for everyone.
This tropical fusion is inspired by the vivacious South Pacific spirit of Hawaii. A blend of pineapple, papaya, orange, mango, raisins, rosehips and hibiscus steeps to a beautiful red. Best enjoyed hot or with ice, this cocktail refreshes in an island-style.
Dreamy and delicious-tasting, Chado's Black Currant Black Tea is a sure way to calm your senses. This tea blend envelops you in a lush combination of black tea leaves and black currant pieces. It's sweet and aromatic brew will leave you wanting more.
Try our Shangri-La Green for an unforgettable surge of flavors for your tastebuds. Combined with Mao Feng green tea, safflowers, marigolds, passion fruit, and peach flavor this blend is sure to transport you to a tropical paradise.
Brew into the most delicate tea that tastes of vacation. Our Coconut Vanilla Black Tea is filled with decadent coconut shreds and vanilla essence. As these two delicious ingredients swirl together with the black tea, they create a flavor and aroma that is particularly vibrant.
Paradise is a fruity blend of Orange peel, apple, berries, rosehips, apricot extract, and hibiscus essence. This fruity blend makes it an ideal choice for a warm day as it has a refreshing tart and tangy taste.
Browse our extensive selection of teas today!

Looking for something else to sip on all summer long?  Visit our website today to view our unique selection of teas today!