Tea & Chocolate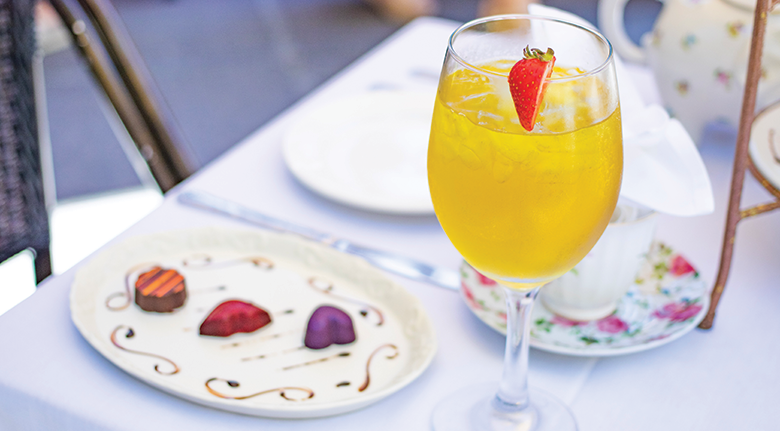 Tea and chocolate can be paired together the same way wine and chocolate can be paired. Tea and wine are basically interchangeable! From the terminology, to how it's tasted, the similarities are endless.
You've heard of wine and cheese and wine and chocolate, but have you heard of Tea and Chocolate? This might be one of the most amazing combinations of pleasure you could ever try. Chado Tea Room offers a Tea and Chocolate pairing for just $$. The pairing comes with 3 different chocolates paired with their respective tea. Chado collaborated with Mignon Chocolates to infuse their teas into a lovely chocolate treat. How amazing is that? What's amazing is that each chocolate tastes much like its respective tea and when paired together with the actual tea, well, *Chef's Kiss*.
When at the tea room, the chocolates are plated together in order of which you will receive your teas. They are refrigerated for freshness, but when paired with the hot tea, the chocolate just melts in your mouth and all of the flavors marry together to make a winning combination. With over 300 teas in store, it's difficult to choose what teas to turn in to chocolates, but the ones they've chosen are amazing choices. When you read the collection, you will be running to the nearest LA based store to pick up a pack!
Right now, Chado has packaged these delicious chocolates for you to take home and share with your loved ones while staying safe during the pandemic. The flavors that you'll find are Matcha, Lavender Earl Grey, White Champagne Raspberry, Masala Chai, Passion Fruit Oolong and Butterscotch! These chocolates are available for outdoor dining as a service or you can order them by calling the store and placing an order for pickup for only $20. The teas are sold separately but worth a buy.
If you're on a budget but want to try the delicious melting of the chocolate in your mouth, I suggest you try them with a hot pot of either a Darjeeling or Assam. Both teas have a bit of astringency to them which pairs so well with the sweetness of the treats. Not to mention that the flavors of each tea come through so nicely. My favorites were the Passion Fruit Oolong and the Lavender Earl Grey. The Oolong tea is a little bit toasty fit of course nice and fruity which is a great mix with the chocolate. The Lavender Earl Grey is such a classic and it is just as delicious a treat in confection form. These are my personal preferences but they were all so so good!
I can truly compare the experience of sitting and pairing chocolates with tea to sipping wine and tasting chocolate alongside. The atmosphere that Chado has set up at each of their stores is elegant and classy much like my wine drinking friends. Even with their outdoor seating they've managed to create a sacred space perfect for sipping tea all afternoon while people watching. Chado is notorious for also holding tea tastings and events, bringing in doctors, chefs, and tea farmers to the store to teach about the teas, their benefits and to even analyze the different tastes between similar teas. Again, doesn't that sound like a winery? Watch out for upcoming events, when safe of course, and you might find yourself attending a tea and cheese pairing too!
With Valentine's Day around the corner, these chocolates are a surefire way to the heart. Call any of Chado's locations to get a box for yourself or a loved one. While you're in, have some tea, enjoy the outdoor seating and maybe even treat yourself to an afternoon tea!