A Bite of Spring: Infused Tea Treats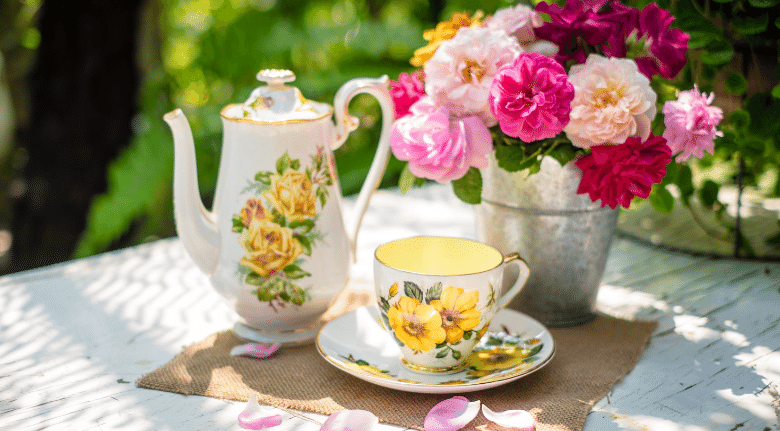 Are you looking for the perfect spring treats to serve during an Afternoon tea or to enjoy during a beautiful afternoon with a cup of tea? Look no further, today we have collected a group of delectable recipes that will tantalize your taste buds and perfectly reflect the spring season. Ranging from basic recipes to more complicated, we have something for everyone's skill levels in the kitchen.
Brown Sugar Jasmine Tea Caramels
Nothing is better than a creamy caramel anytime of the year, this recipe is ideal for spring with the addition of the floral Jasmine tea. Not only is this treat tasty, it's simple to make using our Finest Jasmine Pearls tea!
Ingredients:
1 cup half and half

2 tablespoons Finest Jasmine Pearls

¼ cup butter, cut into cubes

1 cup brown sugar

½ cup light corn syrup

1 teaspoon vanilla extract

Dash of salt
Directions:
Butter an 8x8 inch pan, then line with buttered parchment paper and set aside.

In a pot heat the half an half until near boiling, then add in the tea and allow to steep for 2-3 minutes. Strain the tea from the half and half and set aside.

In a large saucepan, combine the butter and brown sugar. Allow both to melt while continuously whisking.

Once the mixture has melted, add the corn syrup, salt, and jasmine tea infused half and half. Whisk together until combined, then bring to a simmer and stop whisking.

Proceed to cook the mixture until it reaches a temperature of 244*F.

Remove from the heat and stir in the vanilla extract.

Pour into the prepared pan and allow to cool and become firm.

Once firm and cooled, cut into small squares and wrap in wax paper to prevent the pieces from sticking.
Strawberry Matcha Roll Cake
Fluffy and light, this roll cake is fun to make and even better to eat! With the unique flavor of Matcha tea and the sweet strawberries it is the perfect combination for a spring afternoon tea with friends and family.
Matcha Cake Ingredients:
Filling Ingredients:
½ cup heavy whipping cream

2 - 3 tablespoons sugar

7 ounces fresh strawberries, hulled and chopped
Sponge Cake Directions:
Preheat the oven to 375° F. Line the baker's half baking sheet (about 16.5 x 11.5 inches) with parchment paper.

Separate the egg yolks and egg whites. (Make sure there's absolutely no trace of egg yolk in egg whites, or it won't whip into fluffy white stiff peaks.)

In a small bowl, mix the matcha powder with 1 tablespoon hot water until smooth.

In a separate medium bowl, whisk the egg yolks and ¼ cup of sugar until pale and tripled in size, about 2 minutes.

Mix in the matcha paste.

In a mixing bowl with a whisk attachment, beat in the egg whites on medium speed until frothy. Add remaining ¼ cup of sugar one tablespoon at a time. Increase the speed to medium high and continue to beat until stiff peaks form.

Add half of the whipped egg whites into the egg yolk mixture. Gently fold the batter with a spatula until almost smooth, and then add the remaining whipped egg whites. Carefully fold the batter until smooth.

Sift in the cake flour and salt. Gently fold it until the flour is fully incorporated.

Pour the batter into the prepared baking pan. Using a spatula, spread the batter evenly and smooth the surface.

Bake for 8-10 minutes, or until an inserted toothpick comes out clean.

Meanwhile, lay a clean kitchen towel on the counter and generously dust with powdered sugar.

Once the cake is out of the oven, immediately invert it on the prepared kitchen towel. Peel off the parchment paper and roll it with the towel and all. This helps the cake roll without cracking. Set the rolled cake on a cooling rack and cool completely.
Whipped Cream Directions:
In a mixing bowl with a whisk attachment, beat the heavy cream on low speed until frothy.

Add the sugar and continue to whip on medium speed until peaks form.

Refrigerate until ready to use.
Assembly Directions:
Once the cake has cooled completely, unroll the cake and spread half of the whipped cream over the cake and place the chopped strawberries.

Then spread the remaining whipped cream over the strawberries and roll the cake into a log.

Dust with powdered sugar and serve! Do refrigerate the cake, covered, if not serving right away.
Blueberry Macarons with an Earl Grey and Pear Filling
This recipe is a burst of flavors, making it a real treat for the senses! Combining blueberries, pear, and our delightfully spring Blue Flower Earl Grey tea you and your guests won't be disappointed with this baked good as an afternoon tea treat.
Blueberry Macarons Ingredients:
4 ½ tablespoons egg whites

3 ⅔ tablespoons granulated sugar

2 tablespoons finely ground blueberries

1 cup and 2 tablespoons powdered sugar

1 ¼ cup almond meal
Pear and Blue Flower Earl Grey Filling Ingredients:
1 ⅜ cup pureed pear

1 teaspoon Blue Flower Earl Grey

¼ cup granulated sugar

⅛ cup water

1 envelope plain gelatin
Blueberry Macaron Instructions:
Trace out 1 inch circles on parchment and set this aside as a "master copy". Reserve two extra sheets of parchment and set aside.

Place egg whites and sugar in a stand mixer bowl and fit the mixer with a whisk attachment. Beat on medium low speed until egg whites start to form loose translucent bubbles. Increase mixer speed to medium and beat until meringue turns foamy and white and starts to resemble well lathered shampoo, about 2 minutes. Increase mixer to high and beat until meringue holds glossy stiff peaks, about another 2-3 minutes. Add two drops of purple food coloring and give the mixer two quick runs to incorporate the color. Turn off the mixer and set aside.

In another bowl add finely ground dried blueberries, powdered sugar and almond meal and whisk to combine, then push mixture through a fine mesh sieve to sift.

Add dry ingredients to meringue. Using a sturdy spatula, fold and smash dry mixture into meringue against the bowl's side for about 20-25 folds. Don't worry about being gentle, the idea is to knock the air out of it. The batter should hold its shape when spooned on itself and start to slowly flatten out after about 15-20 seconds. Start checking the batter after 20 folds for readiness.

Place a master copy of drawn circles on a baking sheet and then place a sheet of parchment on top. Fill a pastry bag with batter and pipe until the batter reaches the edge of the circle. Remove master copy from underneath piped layer and place on second bake sheet and pipe remaining batter (remove master copy and save for future use).Take hold of each pan and give it a quick hard tap against the counter, turn the pan 90 degrees and give it another quick hard tap. This will deflate any bubbles and prevent cracked shells.

Bake for about 18-22 minutes. Remove from the oven and transfer to a cooling rack. Leave shells to cool completely on the pan. Shells will cleanly peel away from parchment when ready in about 30 minutes.
Pear and Blue Flower Earl Grey Filling Instructions:
Place tea in a coffee grinder or blender and process until loose leaf is a fine grind. Add finely ground tea to pureed pears and fold to combine; set aside.

Place water and sugar in a small saucepan over medium heat, stir until sugar is melted. Transfer pan to wire rack to cool, about 15 - 20 minutes. Once cooled, sprinkle gelatin on top and leave untouched for 1-2 minutes for gelatin to bloom. Return pan to stove top and over low heat stir the mixture until the gelatin bloom melts and mixture resembles the consistency of maple syrup. Remove from heat and stir gelatin mixture into pear mixture. Transfer to the refrigerator to chill for about 10-15 minutes or until the filling becomes thick and slightly set.
Macaron Assembly:
Transfer filling to a pastry bag fitted with a round tip and pipe onto the bottom side of one macaron cookie and place a second macaron on top with the bottom side down.

Transfer fully assembled macarons to a refrigerator to chill for another 30-40 minutes for the filling to finish setting.

A finished macaron will have a filling consistency that will not spill or squirt out of the side when bitten into.
Want To Try These Teas For Yourself?
If you're feeling inspired grab all three teas to try your hand at these spring treats!
This is a fine, quality jasmine tea that will please your eyes, nose, and palate. It is produced from a high-quality green tea that is individually rolled with fine jasmine buds picked right before they bloom. The flavor is intense, the taste is remarkable, and it looks magnificent too!
Our ceremonial matcha comes from the Japanese prefecture of Mie. Historically, Mie has only supplied tea to Japan and Europe. Only recently have they expanded to the US. Together with our cousins from Tijuana, Sinensis Tea Bar, we are introducing a delicious matcha from this beautiful region.
Feel like a cup of tea? Chado's Blue Flower Earl Grey is for you. This is one of our best sellers and for good reason. Classic Nilgiri black tea leaves are blended with blue mallow blossoms, and bergamot oil making for a cup of tea that transcends all taste palettes.