Spring Has Sprung: Easter Afternoon Tea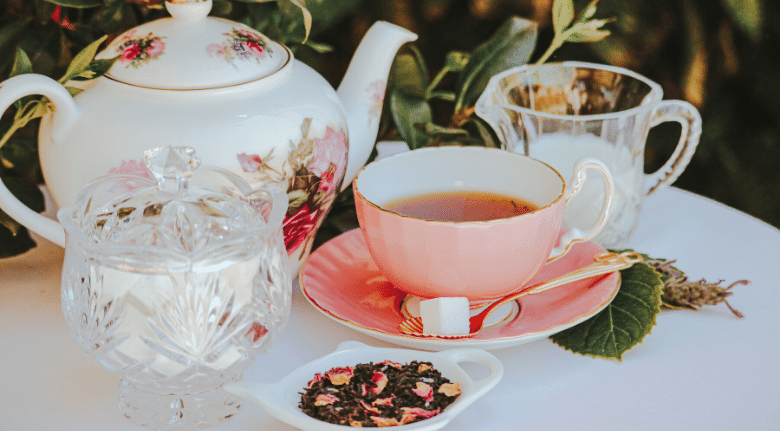 Spring has sprung and you know that means, Easter celebrations are just about to begin! It's the time of the year when flowers are in bloom, children are running after hidden easter eggs, and pastel colored candy is plentiful. Today we will be sharing with you our best insider know-how for the perfect Easter Afternoon Tea.
Decor
Easter and springtime is all about pastel colors and florals! For this afternoon tea you can't have too many springtime flowers decorating every surface of your table, down from the tablecloth and napkins, to the plates and tea cups, and lastly the vases of flowers. A few flowers perfect for setting your table would be an Easter Lily, Daffodils, Tulips, and Hydrangea. Easter Lilies represent purity and resurrection, Daffodils represent the arrival of new life, Tulips represent love, belief, and forgiveness, lastly Hydrangeas represent gratitude and understanding. China or porcelain with any sort of floral pattern is the ideal option for your table setting, not only will it be the perfect way to wrap up your decor but it's bound to put a smile on your guests face! If you really want to get in the Easter mood add in little bunnies or Easter eggs for that extra pop!
Menu
Deviled Egg Chicks
Ingredients:
12 large eggs, hard boiled and peeled

⅓ cup mayonnaise

1 ½ teaspoon dijon mustard, or add to taste

¼ teaspoon garlic powder

⅛ teaspoon salt, or to taste

1 small carrot, peeled and sliced into rings

6 black olives
Directions:
Peel 12 hard-boiled eggs. With a sharp knife, slice off a very thin layer from the base of the egg - this will give it a flat surface to stand on a platter. Cut off a generous top third of the egg. Squeeze around the egg base gently to loosen the yolk and it should pop right out. Keep the lids paired with their bases.

In a medium mixing bowl, combine 12 cooked yolks and mash well with a fork. Add ⅓ cup mayonnaise, 1 ½ teaspoon dijon (or add to taste), ¼ teaspoon garlic powder and ⅛ teaspoon salt, or season to taste. Mash everything together until smooth. Transfer mixture to ziploc or pastry bag and pipe generously into egg bases. Place top ⅓ back over the base and press down slightly to adhere.

For the eyes, poke through an olive with a plastic straw several times then gently squeeze down the straw and the little circles of olives will pop right out. For the beaks, thinly slice a few rings of carrot and cut each ring into sixths. Insert 2 olive spots for eyes and 2 carrot wedges for the beak. Set chicks on a platter and garnish with fresh parsley or dill to give them that "free range" feel.
Open Face Smoked Salmon Finger Sandwiches
Ingredients:
5 ounces cream cheese, at room temperature

1 ½ tablespoons chopped fresh chives

2 teaspoons prepared cream style horseradish

¼ teaspoon freshly ground black pepper

¼ teaspoon kosher salt

2 teaspoons drained capers, coarsely chopped

Zest of 1 lemon

4 slices pumpernickel bread

½ bunch watercress, stems removed

8 ounces thinly sliced smoked salmon

6 fresh chives, cut into twenty four 1-inch pieces, for garnish
Directions:
In a medium bowl, combine the cream cheese, chopped chives, horseradish, pepper, salt, capers and lemon zest until smooth.

Arrange 4 slices of bread on a work surface. Spread 2 tablespoons of the cream cheese mixture over each bread slice to cover.

Lay the watercress in an even layer on top. Top with smoked salmon.

Using a 2 inch round cookie cutter, cut 3 or 4 circles out of each slice of bread.

Place a dollop of the cream cheese mixture on top and garnish with 2 pieces of chives.

Arrange on a platter and serve.
Lemon Lavender Scones
Scone Ingredients:
¼ cup granulated sugar

2 tablespoons lemon zest

¾ cup milk and more for brushing

¼ cup fresh lemon juice

½ teaspoon vanilla extract

2 ½ cups all-purpose flour

1 tablespoon baking powder

½ teaspoon baking soda

½ teaspoon salt

2 ½ teaspoon lavender flowers

1 stick, ½ cup cold butter cubed
Icing Ingredients:
1 cup powdered sugar

1 - 1 ½ tablespoons milk, sub with lemon juice for extra lemon flavor but do not combine

1 teaspoon lemon zest
Directions:
Preheat the oven to 375°F and line a large baking sheet with parchment paper.

In a small bowl, combine the sugar and lemon zest, rubbing between your clean fingers until a coarse sand-like mixture forms (this helps infuse the lemon flavor).

In a separate bowl, combine the milk, lemon juice, and vanilla extract. This will form a "buttermilk" like consistency. Set aside.

In a large bowl, whisk together the flour, baking powder, baking soda, salt, and lavender. Add the lemon-sugar mixture and stir to combine. Cut in the cold butter until a pea-sized mixture forms. Gently stir in milk with a wooden spoon until just combined (do not over mix).

Place dough on a lightly floured surface and knead gently until formed together (again – do not over knead, gently push the dough together). Form the dough into an 8 x 5 inch rectangle. Cut the rectangle down the middle, lengthwise, and then cut the other side (short side) into thirds (you will have 6 squares). Cut each square in half to form two triangles. This will result in 12 small triangles.

Place the scones on the baking sheet with plenty of space in between each one, they will expand as they bake. Brush the tops and sides of the scones evenly with a bit of additional milk to add color as they bake. Bake the scones for 19-22 minutes until bottoms and tops are slightly golden brown. Remove and let cool slightly before transferring to a cooling rack to cool completely.

To make the icing, stir together powdered sugar, milk (or lemon juice if substituting it), and lemon zest until combined. Drizzle on cooled scones.
Tea Selection
Here at Chado we have the perfect flower inspired teas for an Easter Afternoon tea! With blends infused with floral and citrus notes, we have the perfect tea for a spring fling!
Feel like a cup of tea? Chado's Blue Flower Earl Grey is for you. This is one of our best sellers and for good reason. Classic Nilgiri black tea leaves are blended with blue mallow blossoms, and bergamot oil making for a cup of tea that transcends all taste palettes.
This loose-leaf blend may be simple in recipe, but it's big on flavor. Ingredients like chamomile flowers, rosehips and hibiscus blossoms infuse your cup while adding antioxidant and immunity boosting qualities. Making your taste buds happy and your immune system stronger.
Add a little sunshine to your day with this citrus and floral loose leaf Lemon Chiffon Tea. The honeybush, rooibos, lemon myrtle, lavender flowers and marigold petals combine with a hint of lemon and pomegranate flavor for a zesty citrus caffeine-free tea. Add a touch of honey for a little extra sweetening.
Experience the painstakingly genuine art of blooming tea, our Mango Blooming Tea brews up a real floral bouquet. Every tea is hand-tied with a globe amaranth flower and filled with the fruity scent of mango. This tea brings the calming spirit of the garden into your home.
Your perfect Sunday morning starts with a cup full of our Lavender Earl Grey made with a classic Nilgiri tea base. The flavor is enhanced with the addition of French Lavender flowers and bergamot oil, making for a refined earl grey tea. This is the definition of luxury that will leave you feeling more relaxed than you have in years.
This exquisitely designed green tea is the ultimate in elegance and simplicity. The green tea unfurls to reveal a beautiful amaranth flower and a lush pink interior. From the moment you break open the tea bag, the floral aroma of the blooming tea wafts into the air. In your mouth, the Guava flavor dances on your tongue, with a sweet and refreshing aftertaste.
Want To Browse More Of Our Products For Your Easter Tea?
Check out our selection of teas we have to offer from all over the globe.