National Iced Tea Day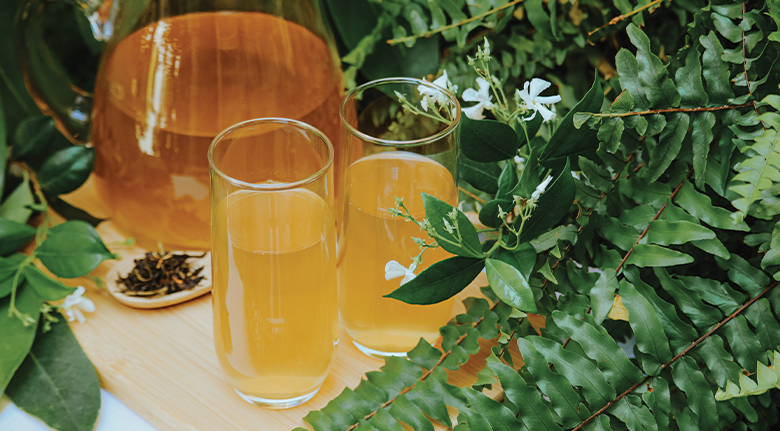 Iced Tea Recipes
June 10th is the annual celebration of Iced Tea. If you read our previous blog, you know that there isn't a lot that the Americas can take credit for when it comes to tea, but one thing we can surely take credit for is making iced tea popular. We here at Chado absolutely love ourselves a cup of iced tea on a hot summer day. Iced tea, being America's favorite beverage, is a staple during this time of year. With summer looming around the corner, let's get you brushed up on how to make yourself the perfect cup of iced tea with three different methods that are sure to leave you with an idea of what you're looking for.
Sun Tea
Heard of it but unsure what it is? Let me explain. Sun tea is a Southern staple and it's exactly what it sounds like. The process involves leaving tea leaves submerged in water outside in the sun until the liquor turns into a deep amber color. You can take your sun tea and drink it over ice. Using a 32oz glass mason jar, fill it with about 4 cups of water and add 5-7 teabags of your favorite tea. We recommend our Chado Breakfast, which can be bought either as a loose leaf tea or in our new Pyramid Tea Bags! Allow the tea to sit out in direct sunlight for up to 2 hours, this allows the tea leaves to reach full steeping potential. Be sure to enjoy the tea within a day to avoid any bacteria growth. As is Southern tradition, add a significant amount of sugar to the tea after to create everyone's favorite southern beverage, Sweet Tea!
Cold Brew
Cold brew is quickly growing in popularity, though it's been around for several hundred years and is said to have originated in Kyoto, Japan in the 1600s. Cold brewing is a method that will leave you with a delicious and smooth flavor. When you add heat to tea leaves, the bitterness can come out a bit strong, but cold brewing eliminates this. For best results we recommend using 1 tsp of loose leaf tea or one tea bag submerged in 6 - 8 ounces of water. Allow the tea to sit in the fridge for 6-12 hours and consume it the same day. You can enjoy it poured over ice or straight out of the refrigerator. A couple of our favorite teas for Cold Brew are the Genmaicha and White Champagne Raspberry!
Traditional Iced Tea
This method of making iced tea is tried and true, one that most of the general public are familiar with. This is the method that we habitually use in our tea rooms and our guests love it! Traditionally you steep your tea as you normally would, hot and simply pour over ice. We recommend steeping your tea a bit longer than usual (just by a minute or two) because pouring over ice will dilute the mixture as the ice melts. If you like your tea sweet, we recommend adding a sweetener of your choosing to the hot mixture to make sure it dissolves evenly. Summer is around the corner and Chado has all of your specialty tea needs. Enjoy your tea the way you like it and try any or all of our teas! For Iced tea we love and recommend our Shangri-la Green Tea.
How are you celebrating National Iced Tea Day?
We want to hear about your own recipes and ideas! Tag us on Instagram in either posts or stories and who knows, we might share it with our followers!