As American As Chai Apple Pie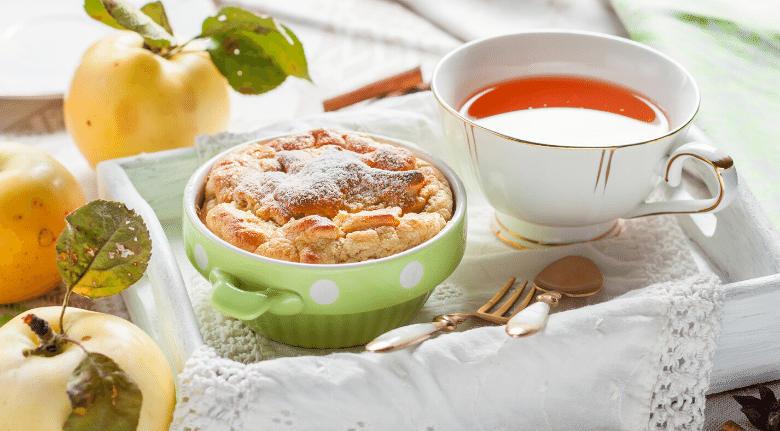 We've all heard the saying, "as American as apple pie". This saying can have its roots traced back to the year 1924 in an advertisement for Letsz Suits found in the Gettysburg Times. By the dawn of World War 2 and America's involvement on the Pacific front, this saying was taking off as a symbol of American Pride and Tradition. In today's blog we have an apple pie recipe that has been kicked up a notch, we've added Chai! With the wonderful natural sweet taste of the apples and the spicy, earthy notes found in Chai this is a recipe you will want to keep on hand for all occasions.
Chai Apple Pie
Serving Size | 8
Total Time | 2 hours and 30 minutes
Ingredients:
1 cup apple juice

2 tablespoons unsalted butter

2 ½ pound honeycrisp apples, peeled
and and coarsely chopped

½ cup packed brown sugar

1 tablespoon cinnamon

1 teaspoon ground ginger

¼ teaspoon ground cardamom

¼ teaspoon ground cloves

2 pinches black pepper

1 tablespoon pure maple syrup

1 teaspoon vanilla extract

¼ teaspoon salt

1 tablespoon cornstarch

1 (15 oz) package rolled, refrigerated
unbaked pie crust (2 crusts)

1 large egg, lightly beaten

Vanilla ice cream (optional)
Directions:
Microwave the apple juice in 30 second intervals until it is hot but not boiling. Add the Devan's Legacy Chai tea, cover, and steep for 10 minutes. Discard tea bags once done.

In a large saucepan, melt the butter. Add the apples, brown sugar, cinnamon, ginger, cardamom, cloves, pepper, maple syrup, vanilla, and salt. Stir in the apple juice-chai mixture. Bring to a boil, then reduce the heat to medium. Cook uncovered and stir occasionally, until the apples are tender, about 30 minutes.

Transfer ¼ cup of the liquid from the saucepan to a small bowl. Whisk in cornstarch until dissolved and smooth; stir back into the saucepan. Continue to cook over medium heat, stirring often, until mixture starts to thicken, about 5 minutes. Pour into a bowl and let cool, about 1 hour.

Preheat the oven to 425*F. Roll 1 pie crust into a 12 inch circle on a lightly floured surface. Transfer to a 9 inch pie plate. Trim dough 1 inch beyond the pie plate edge. Pour the filling into the crust.

Roll the remaining crust into a 12 inch circle. Cut into 14 (¾ inch wide) strips. Put 1 strip horizontally across the center of the pie; lay another strip vertically on top of the first. Continue with the remaining strips, alternating horizontally then vertically and weaving over and under to create a woven lattice pattern.

Trim the strips 1 inch beyond the edge of the pie plate. Fold the bottom crust over ends of the strips; pinch to seal and crimp the edges.

Lightly brush the crust with beaten egg. Cover the edge with foil to prevent overbrowning.

Bake for 30 minutes. Remove the foil and continue to bake until golden and bubbly, about 10 more minutes.

Let cool for at least 1 hour before serving. Serve warm with ice cream if preferred. This pie can be made ahead of time and stored at room temperature for up to 2 days. Reheat 15 to 20 minutes in a 350* oven if desired.
The Perfect Pairing
Below you can find the perfect pairing for this decadent apple pie, our signature Devan's Legacy Chai Pyramid Tea Bags.
This chai is unlike any other with lemongrass and vanilla flavors. Our Devan's Legacy Chai is available in a Pyramid Tea Bag for your convenience! These tea bags are meant for our full leaf teas and are packed with flavor! Check out our selection of pyramid tea bags for more flavors and experience Chado tea on the go.
Flavor Profile: Creamy , Energizing , Vanilla
Want To Try More Chado Teas?
Browse our entire Selection of Teas today! Not sure what blends to try? Take our Chado Tea quiz so get recommended the right blends for you.