Chado Tea's Valentine's Day Gift Guide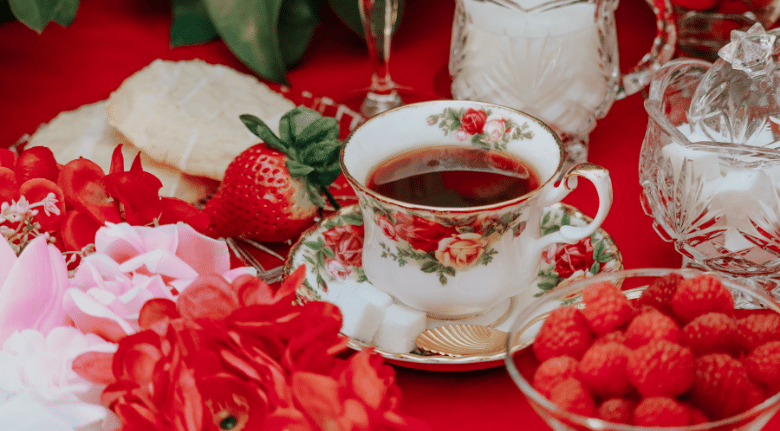 Love is in the air and Valentine's Day is just around the corner! This year let us here at Chado Tea be your one stop shop for all of your Valentine's Day needs. We have fun and flirty romantic blends and every day tea accessories perfect for the resident tea lover in your life.
Valentine's Day Tea Recommendations


This premium black loose leaf tea contains hints of rose petals as well as raspberries and strawberry, to create a fruity, floral tea of great flavor and complexity. This is a full bodied black tea that smells just like you've stepped into a garden.


Take a moment to savor this cup made of delicate black tea leaves, chocolate, and raspberry dissolving in your mouth. Taste how all these notes melt together in a satisfying and silky smooth flavor of luxury, like a dessert without the calories. The elegant infusion will hypnotize your senses with each sip.


Steep this fragrant blend of signature Chado chai spices and roses for a cup of chai like no other. Lightly spiced with cardamom, cinnamon, cloves, black pepper, star anise and ginger, it is further permeated with a sweet, piquant aroma from the addition of rose petals.


A decadent cup that harnesses the complex flavors of cacao. A sin in the best possible way. Your first sip of Colombian cacao black tea may leave you shaken, but you'll soon come around to reveling in the deep, complex flavors. Toasted cacao nibs and cocoa husks feed into the loveliness. It's a sin to be this good.


Fragrant, flowery and zesty, this oolong tea embodies the essence of a rose whilst contrasting fruity, citrusy notes of fresh lemon. Inspired by and dedicated to Chado founder Reena Shah, this is an oolong tea worth savoring and sharing.


This is the tea experience that makes you feel as though you're eating a decadent dessert. Leave your worries behind as you experience this delicious fusion of chocolate and caramel pieces along with your black tea. It's delicately bold, yet not overpowering.
Valentine's Day Tea Accessories Recommendations


Brew the perfect cup of tea every time with our little friend, an owl tea infuser. Accompanied by a little plate to rest your infuser on after your tea has brewed, making for a quick and easy cup of tea no matter what time of the day. Whether a gift for yourself or for your friends and family this little fella is sure to be a HOOT!


Enjoy a piece of Chado in your home every day with a miniature Chado canister! Replicated to look like our bigger Chado tea canisters we use in our tea rooms, this smaller version makes for the perfect gift for your resident Chado tea lover in your life. Don't want to gift it? Then use it to store your own Chado tea at home and make every day a Chado afternoon tea day!


Still Need The Perfect Gift?


Check out our Chado Tea Accessories to pair with our St. Valentine's tea blends.